Australian wildcard Aleksandar Vukic looked up at the sky in astonishing moments after he claimed his first grand slam victory in four sets over South Africa's Lloyd Harris on Monday.
Vukic has only previously played at the French Open and Australian Open last year, but world No. 160 looked ready for the uprising as he attacked his ground strokes, looking for any advantage over a similarly aggressive Harris.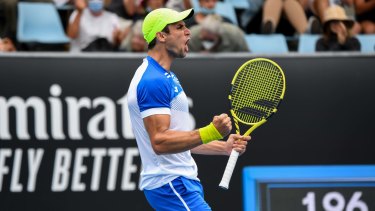 The South African won the first set, but Vukic managed to force his way into the next three, winning a tie-breaker and claiming the fourth set and the win.
"This is completely a dream," Vukic told Channel Nine after the match.
Loading
"Especially this court with all these guys. I mean, I came here as a kid and I saw the Aussies play here. To play here, myself, and to win … I can not put words to that mate."
Vukic said he was nervous about closing the match but was overjoyed to win in front of his parents and family.
"These guys were with me every point," he said.