Children of essential workers will be able to go to school on the first day of the first semester in each state and territory, while federal government health experts predict that coronavirus infection will increase when classrooms reopen.
Prime Minister Scott Morrison also said that if states and territories choose to conduct monitoring tests in accordance with the advice of their own experts, the federal government will fund half the cost of the tests for students and staff.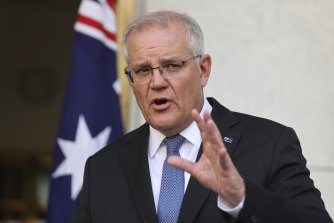 He said the National Cabinet, which met Thursday afternoon, discussed schools with the overall view of getting children into classes and keeping them there.
"There is a lot of discussion today about where the various states are going, and the pandemic, and where the peak of the pandemic is," he told reporters in Canberra on Thursday.
"Then states tailor it in terms of their opening schemes that they will be in line with the principles of getting schools open and keeping schools open, and this is especially true from day one, semester one, for the children of important workers.
"Even in Queensland and SA, where they will have different opening arrangements for key workers, their children will be able to go to school, which is very important for the impact that can have on the workforce."
NSW and Victoria have been working together on back-to-school plans involving monitoring tests that would see parents provided with sufficiently fast antigen sets to test each student twice a week before school. But the states' plans have not yet been formally announced.
States and territories that choose surveillance testing will be responsible for providing rapid antigen testing to schools and the early childhood care sector. Asked whether he was sure there was an adequate supply of tests available, Mr Morrison said it would be a problem for states and territories to consider when deciding whether to adopt a monitoring test regime.
He said that if schools did not open, the maximum layoff of the workforce due to COVID absence could increase from 10 to 15 percent, which he said would have a "devastating effect on our economy".