President Biden took a sneak peek at Fox News White House correspondent Jacqui Heinrich for trying to pressure him after his controversial remarks about the escalating conflict between Russia and Ukraine.
During his marathon press conference, Biden triggered an international firestorm as critics accused him of giving the "green light" for Russian President Vladimir Putin to begin an invasion of Ukraine.
"Russia will be held accountable if it invades," Biden said Wednesday. "And it depends on what it does."
BIDEN LOOKS LIKE HIS COOL AFTER THE REPORTER'S QUESTION ON PLAYING: 'GO BACK AND READ WHAT I SAID'
"It's one thing if it's a minor burglary and then we end up arguing about what we should do and not do, etc.," he continued. "But if they actually do what they are capable of with the forces gathered at the border, it will be a disaster for Russia if they further invade Ukraine."
The White House went back and supported his comments, saying: "If any Russian military forces move across the Ukrainian border, it is a renewed invasion and it will be met with a swift, serious and united response from the United States and our allies."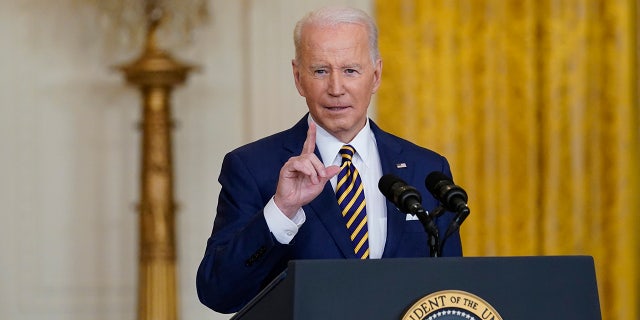 Ahead of Biden's meeting with his infrastructure implementation task force on Thursday, Heinrich shouted a question to the president as his staff began firing journalists out of the room.
"Why are you waiting for Putin to take the first step, sir?" asked Henry.
Biden laughed and replied gently, "What a stupid question.
The president had heated exchanges with several journalists at Wednesday's press conference, including him who slammed RealClearNews reporter Philip Wegmann.
CLICK HERE TO GET THE FOX NEWS APP
"You campaigned and you ran on a return to courtesy. And I know you dispute the characterization that you called people who would oppose these ballots as being Bull Connor or George Wallace. But you said that would be kind of in the same camp? " asked Wegmann.
"No, I did not say that. Look what I said," Biden scolded the reporter. "Go back and read what I said and tell me if you think I called someone who voted on the side of Bull Connor's position that they were Bull Connor? And that's an interesting read in English. "Yes, I'm assuming you got it in the journals because you like writing."