Skin fold tests would go, the term "physics" would be banned, and quotas for female trainers would be implemented. These are some of the recommendations from an independent report on Swimming Australia's treatment of girls and women released on Friday.
The report calls on SA to modernize its coaching regime to "challenge the misinformed view that lean body mass predicts performance" and to provide "training in the use of humanizing and non-objectifying language to address body image concerns".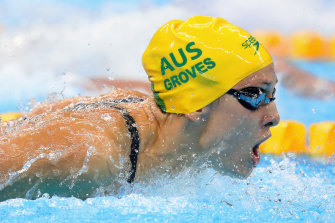 It should "change the language of current coaching education materials to be more inclusive and respectful of women, for example, remove existing descriptions such as" big thighs "when describing the bodies of female swimmers".
"Unjustified routine periodic screening should be avoided," the report said. "Body composition assessment should be performed a maximum of twice a year, unless there is a legitimate need (for example, monitoring of healing from injury. Mandatory assessments and group compositions should be avoided.
Loading
The term "physics" has meaning and implications, including overestimating body shape and size in terms of its impact on performance, so it is recommended that SA remove the term "physics" from [its] set of principles ".
SA should demonstrate leadership by "not using or allowing the use of surface anthropometry, specifically skin folds, as a measure of body composition at any point in a swimmer's career".
SA must also sharpen and make its grievance process more transparent, introduce a whistleblower facility, be stronger at dealing with harassment and bullying, and strengthen character tests in selecting coaches.
"TO [should] demonstrate cultural leadership by prioritizing behavioral standards over a coach's performance standards, "the report states. "Athlete welfare must be the primary driving force for coach choice."