"What happens going forward after this wave, we do not know," he said. "We will always plan for the worse and hope for the best."
Dr. Gerrard confirmed that Queensland had registered over a quarter of a million cases of COVID-19 since domestic borders reopened up to Christmas, and the actual number is likely to be close to a million, given the lack of available tests.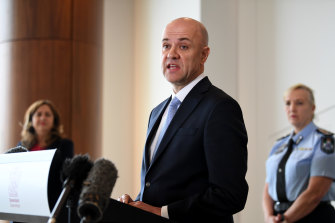 As of Saturday, Queensland now allows international travelers to enter the state without the need for quarantine, as long as they are double-vaccinated and do a RAT test within 24 hours of their trip.
Unvaccinated travelers are also allowed to enter, but must be quarantined for 14 days.
Brisbane Airport experienced a doubling of its international arrivals on Saturday alone, with more than 1,000 international passengers due to landings during the day, compared to 500, which was the arrival limit until Saturday morning.
Loading
Tourism Minister Stirling Hinchliffe was at Brisbane airport on Saturday when the first unlimited international flights landed, saying the move indicated the start of the reconstruction phase of Queensland's tourism industry.
"Over the next week, we will see flights to all our international airports across Queensland, reunite families, see people return to their studies or get to work," the minister said.
"Hopefully soon we will see many more tourists, and hopefully we can see this as the right light at the end of the tunnel for Queensland's $ 6 billion tourism industry."
Brisbane Airport CEO Gert-Jan de Graaff said he was very pleased to see travelers return, but warned that it would still take up to 5 years for travel numbers to rise to pre-pandemic levels.
Loading
"Hopefully I'm too negative in that, but that's the current thinking globally about how long it will take to rebuild the industry," he said.
De Graaff said it was due to a number of factors, including the fact that there were still restrictions on flying to and from many countries and that travelers' confidence would take time to be rebuilt after the pandemic.
But he said the move to reopen Queensland was a positive first step on the road out of the global health crisis.