Apple today announced that it will be offering a new Heart Month Activity Challenge next month. Apple Watch users can complete the Activity Challenge by completing 30 minutes in their Exercise ring on February 14 to earn a special award and custom iMessage stickers.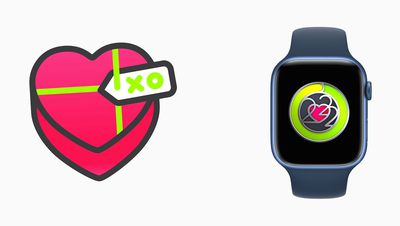 Also starting February 14, Apple Fitness + will feature a special section of 30-minute energizing workouts, along with a new Time to Walk episode featuring former mixed martial arts champion Georges St-Pierre, according to Apple.
In celebration of Heart Month this February, Apple will also be offering themed content across the App Store, the Apple TV app, Apple Podcasts, and Apple Books.
"We're strong believers at Apple that if you can empower people with information about their health, you can change the trajectory of their well-being," said Apple COO Jeff Williams, who oversees the Apple Watch team. "Keeping your heart healthy requires a holistic approach – something we've focused on since the first generation of Apple Watch with the inclusion of activity and workout apps, in addition to heart rate."
Apple also shared preliminary analysis of activity data from its Apple Heart and Movement Study. Researchers found that after analyzing more than 18 million workouts logged using Apple Watch during the pandemic, study participants relied on getting their activity minutes in by walking, cycling, and running the most, according to Apple.
Popular Stories
Everything New in iOS 15.4 and iPadOS 15.4: Face ID With a Mask, Emojis, Apple Card Widget, Universal Control and More
Apple today seeded the first betas of iOS 15.4, iPadOS 15.4 to developers for testing purposes, adding a slew of new features to the latest iOS operating systems. iOS 15.4 is the biggest update that we've had to iOS 15 to date, and it brings Universal Control, Face ID with a mask, new emojis, and tons more. Face ID With a Mask With iOS 15.4, there is now an option to unlock your iPhone …
Apple TV Getting New Video Player Features and More With tvOS 15.4
Apple this week seeded the first beta of tvOS 15.4 to developers for testing, and there are some new features for the Apple TV. First, the beta release notes indicate that tvOS 15.4 introduces support for captive Wi-Fi networks, allowing you to use your iPhone or iPad to connect your Apple TV to networks that require additional sign-in steps, like at hotels or dorms. As noted by ScreenTime …
iOS 15.4 Adds New Emoji Like Melting Face, Biting Lip, Heart Hands, Troll and More
With the iOS 15.4 update that was introduced today, Apple has added support for Emoji 14, introducing a selection of new emoji like melting face, biting lip, heart hands, and more. There are 37 new emoji and 75 skin tone additions in Emoji 14, resulting in a total of 112 characters. New faces include melting face, saluting face, face with open eyes and hand over mouth, face with peeking eye, …
Apple Finally Removing Python 2 in macOS 12.3
Apple will no longer bundle Python 2.7 with macOS 12.3, according to developer release notes for the upcoming software update. Python 2 has not been supported since January 1, 2020 and no longer receives any bug fixes, security patches, or other changes. Apple says that developers should use an alternative scripting language going forward, such as Python 3, but it's worth noting that Python …
Testing iOS 15.4's New Face ID With a Mask Feature
Apple yesterday released the iOS 15.4 beta and introduced a useful new feature that lets you unlock your iPhone with Face ID while wearing a mask. Face ID with a Mask does not require hardware like an Apple Watch for authentication, and although it makes Face ID a bit less secure, it is much more convenient in a world where many of us are still wearing masks on a regular basis. Subscribe to the …
iOS 15.4's Face ID With a Mask Feature Requires iPhone 12 or Newer
In today's iOS 15.4 beta that's available to developers, Apple added a useful new feature that changes the way Face ID works. There's now a Face ID with a Mask option that allows the iPhone to be unlocked when you're wearing a mask, but you need to have an iPhone 12 or newer. Right now, an iPhone can be unlocked with a mask if you have an Apple Watch for authentication to add an extra layer …
.