Global's traffic chopper showed three protesters sitting in each of the three southbound lanes, blocking all traffic out of North Vancouver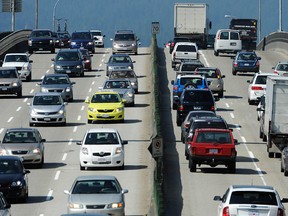 Article content
A handful of protesters blocked southbound traffic on the Ironworkers Memorial Bridge into Vancouver during the morning rush hour.
Global's traffic chopper showed three protesters sitting in each of the three southbound lanes, blocking all vehicles from getting out of North Vancouver.
The northbound lanes were unimpeded but traffic was slowed due to the visual distraction.
Police had arrived on the scene as of 8 am but so far there has been no effort to remove the protesters.
The protest group Save Old Growth has been blocking roads and highways intermittently since Jan. 10, the group's self-imposed deadline for the government to take action to stop old-growth logging in BC