Police and fire crews arrived on scene and the protesters were removed into a police van just before 8:30 am
Article content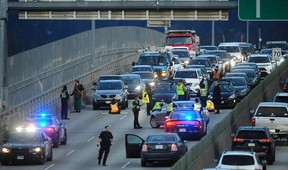 A handful of protesters blocked southbound traffic on the Ironworkers Memorial Bridge and Highway 1 near the Horseshoe Bay ferry terminal during the morning rush hour.
Three protesters sat in each of the three southbound lanes of the bridge between North Vancouver and Vancouver shortly before 8 am, blocking vehicles from getting through.
Another three positioned themselves on Highway 1 close to the ferry access in West Vancouver.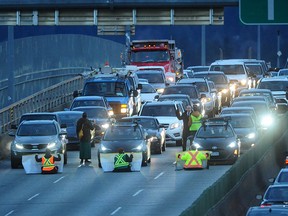 Police and fire crews arrived on the bridge and the protesters were removed into a police van just before 8:30 am The highway blockade was later cleared by police as well.
Article content
The protest group Save Old Growth said it was behind the road blocks, and said all six of its members who had glued themselves to the pavement were arrested.
Save Old Growth has been blocking roads and highways intermittently since Jan. 10, the group's self-imposed deadline for the government to take action to stop old-growth logging in BC
The group said in a statement Monday it is pausing its traffic disruption campaign until March 21, to recruit and train members, warning that the spring protests will see a "level of arrests and disruption in the city and province that will be unprecedented in British Columbia . "