"If you bow or if you show weakness, the Chinese will come with more pressure until you break, but we do not want to do that. We want to let the Chinese understand that their pressure against Taiwan is having the opposite effect, "said Wu.
That means every rhetorical threat from Beijing is met with a response from Taipei. This cacophony can sound like warmongering but is more bombastic than about readying for boots on the ground.
The third objective is about building alliances and ensuring Taiwan becomes a global symbol of liberal democracy worth fighting for.
"On the international front, it is very important to show to international society that Taiwan stands tall against the onslaught of authoritarianism," said Wu.
"We understand that we are on the front line, guarding against the expansion of authoritarianism. And we have the responsibility to safeguard not just Taiwan sovereignty, or Taiwan's way of life, we have the responsibility to safeguard democracy in general. "
Loading
Taipei watched on with concern as the United States and its allies pulled out of Afghanistan. It is determined not to be abandoned by the international community. But it must convince the world's defense forces that it will first fight for itself to be guaranteed their support.
This is why you will hear more like this from Wu throughout 2022.
"We are willing to defend ourselves, that's without any question," he said last year. "We will fight the war if we need to fight the war. And if we need to defend ourselves to the very last day, we will defend ourselves to the very last day. "
Wu must frame the threat of war as omnipresent even if it is not imminent.
For the Australian Coalition government, with an election coming in less than four months, this is convenient.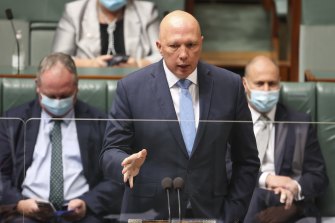 Dutton and Prime Minister Scott Morrison are happy to harness Wu's carefully crafted rhetoric to turn the threat from China into the national security issue of the election.
Labor's attempts to follow the international relations playbook will become more challenging as polling day draws near.
On Monday, Labor leader Anthony Albanese was asked on 3AW radio whether he would "unequivocally" support Taiwan in a military conflict and take a stand against "concentration camps" in Xinjiang.
"Where do you stand?" Neil Mitchell asked Albanese on Monday after days of government ministers accusing Albanese of softening Labor's stance on China.
"What the international community has consistently said is that Taiwan's position needs to be respected," said Albanese.
Albanese let Wu do the talking. That's admirable restraint. Let's see how long it lasts.
Get a note directly from our foreign correspondents on what's making headlines around the world. Sign up for the weekly What in the World newsletter here.