Monday, January 31st 2022, 10:42 am – More snowfall is on the way this week for a large swath of eastern Canada, with additional heavy amounts possible in areas still grappling with impacts from the blizzard from two weeks ago.
A nation-wide pattern flip is underway as we head into February, bringing colder weather back to the Prairies while communities in the east can expect to see above-seasonal temperatures. This flip-flop will leave Ontario and Quebec stuck beneath an atmospheric battleground, as arctic air pressing in from the north meets a plume of milder and more moisture-laden air from the Gulf of Mexico. As this boundary persists, a swath of winter weather will develop this week, bringing far-reaching wintry impacts that could last for several days. More on the snowfall potential and the multiple commute times at risk, below.
THIS WEEK: MORE SNOWFALL ON THE WAY FOR A LARGE SWATH OF EASTERN CANADA
After days of frigid weather and bitter wind chills, some warmer temperatures will kick off the week across southern Ontario, as plenty of sunshine splashes through.
Temperatures in Toronto might rise above freezing for the first time in nearly two weeks by Tuesday, but with a predicted high in the low single digits, don't expect the existing snow to go anywhere in a hurry.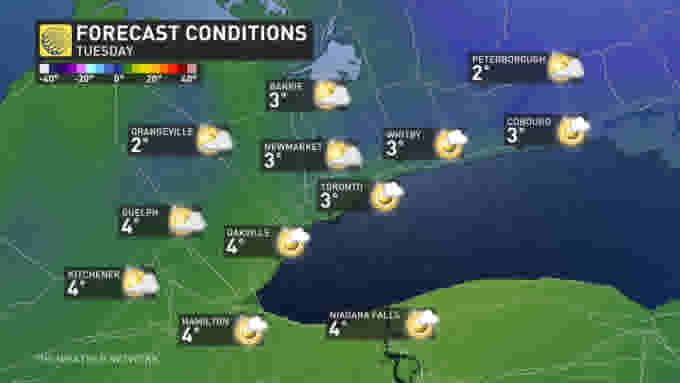 Temperatures are set to fall again by Wednesday, as forecasters keep a close eye on an active storm set-up that will persist through the end of the week.
The set-up for this week's active weather will be driven by an atmospheric boundary that puts arctic air flooding in from the north up against warmer, more moisture-laden air from the Gulf of Mexico. As this boundary persists, a swath of winter weather will develop from the American Rockies to the Great Lakes, bringing far-reaching winter impacts.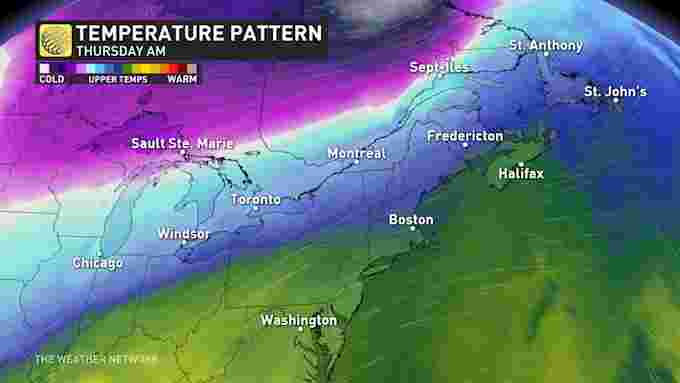 "While parts of the US will see the concern for widespread ice, the most likely scenario for Canadians is long duration snowfall, along an axis including Windsor, Toronto, Montreal, and parts of Atlantic Canada," says Michael Carter, a meteorologist at The Weather Network.
While the exact details of snow totals and impacts will continue to be refined as the system approaches, the calmer and milder weather on Monday and Tuesday will provide a good opportunity for storm preparations, including any previous snow removal.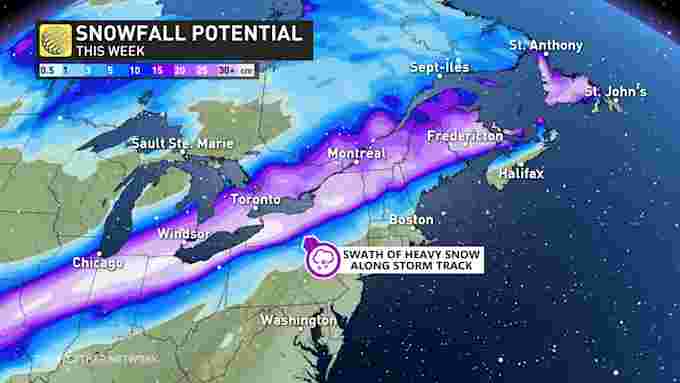 "Streets, sidewalks, cars, and roofs that can be cleared should be ahead of this week's additional accumulations," Carter advises.
That's as this week's accumulations will only stack on top of areas that are still grappling with the impacts from the massive storm that hit on January 17.
The existing snow would make additional snow removal difficult. Any rain could lead to flooding with clogged storm drains, and then exacerbate the risk of a flash freeze. Icy precipitation would further solidify what's already on the ground. It would be a mess on top of a mess.
This round will not be as fast moving either, so it has the potential for being both widespread and longer duration, likely impacting multiple commute times from Wednesday through to Friday.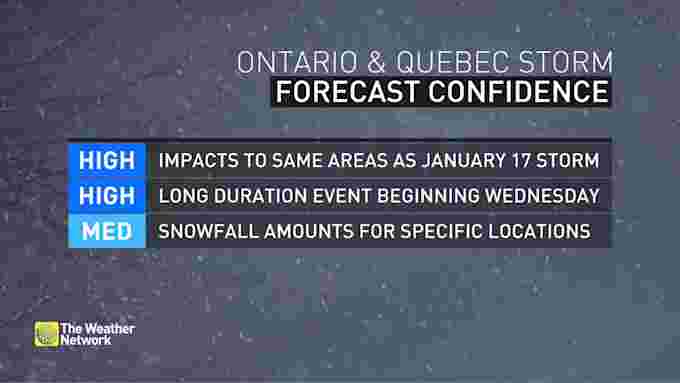 Another blast of Arctic air will press over the region late week, with temperatures steadily falling during the storm and frigid weather likely for Friday and Saturday.
While the frigid pattern will relax somewhat as we head into next week, there is no sustained warmth in sight. Arctic air will continue to make attempts at returning, while milder air also attempts to build into the region. This should keep the pattern rather active, with plenty of winter weather still ahead.
Stay tuned to The Weather Network and check back frequently for all the latest updates as we head into the beginning of February.
.