Brooklyn-based architectural practice Worrell Yeung and Colony, cooperative gallery, design studio and strategy company founded by John Lin, paired to transform a historic loft overlooking Union Square in New York City. The project included renovating the 3,000-square-foot, triangular room into a modern home suitable for its homeowners, one of whom is a concert violinist who can also serve as a recital room to entertain guests.
The attic fills an entire floor, where Worrell Yeung worked with her basic geometries and classic materials to revitalize the space. The layout now has unobstructed views of the 14 northwest-facing windows that create a true light-filled loft. "The apartment was not in terrible shape, but was certainly not inspiring or thoughtfully designed either," says Max Worrell, co-principal of Worrell Yeung. "We started by exploring strategies that highlighted the distinctive character of the ceiling and expressed original elements." With the open space, the architects designed a range of unique volumes to help define space, including a custom-made metal screen / bookcase at the front door and a circular bathroom.
In collaboration with Worrell Yeung's design, Colony raised the ceiling to an elegant home through the use of texture, pattern and color. "Worrell Yeung designed an open, airy and ultimately monumental space that we equated with furniture and interiors suitable for the home's smaller signatures," said Jean Lin, Colony's founder and creative director. "We worked on creating layers of texture, color and comfort while embracing the open nature of the ceiling."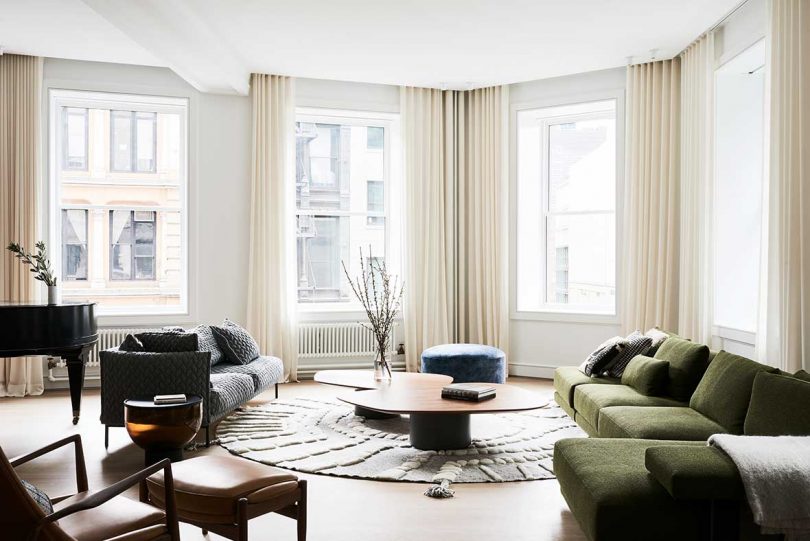 Colony added plenty of seating at the Mason & Hamlin grand piano, including a moss green Bristol Sofa from Poliform, a Gentry Sofa from Moroso and a Seal Chair by Brdr Petersen (through FAIR) surrounding a circular Lania Rug from Woven.
A multifunctional cave can be closed with metal and glass sliding doors, which hide behind the bookcase of the entrance when it is opened.
In the cave, which also serves as the home office, a Wishbone Chair by Carl Hansen is paired with a black desk.
In the hallway leading to the private rooms, a cylindrical powder room opens up to reveal sage Mutina Biscuit ceramic tiles and a single plate of forest green Cipollino Apuano on the floor.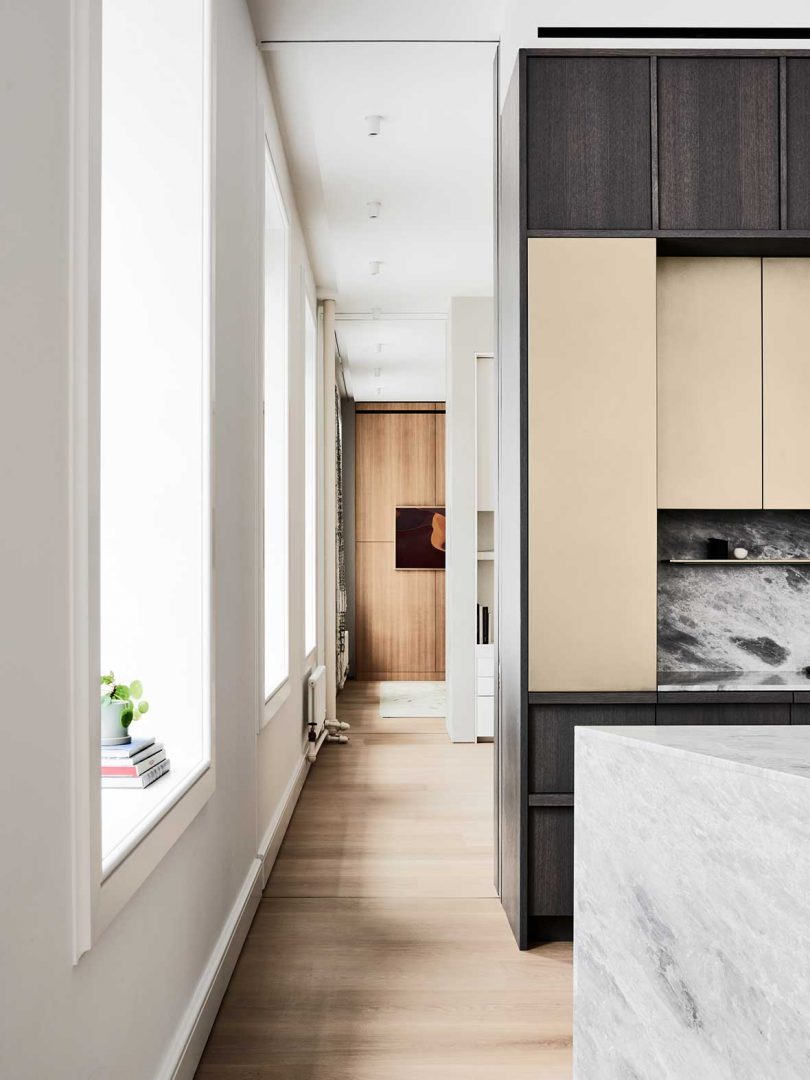 At the narrow end of the triangular layout, the master bedroom features a green Dubois bed from De La Espada with smoked glass Crux Pendant Lights from Allied Maker (via Colony) on the sides. Tonal Precipice – Alpamayo wallpaper from Flat Vernacular (via Colony) adds texture to the walls.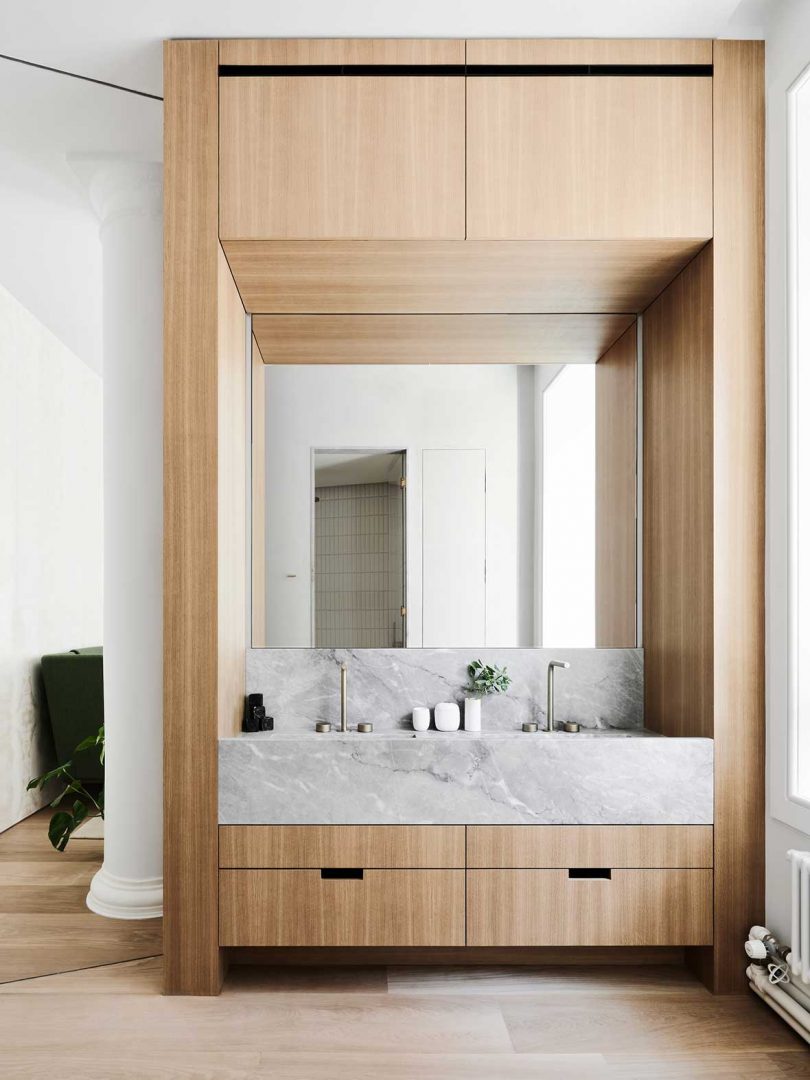 The main bathroom also has a curved wall in the shower, which is lined with white Mutina Biscuit ceramic tiles.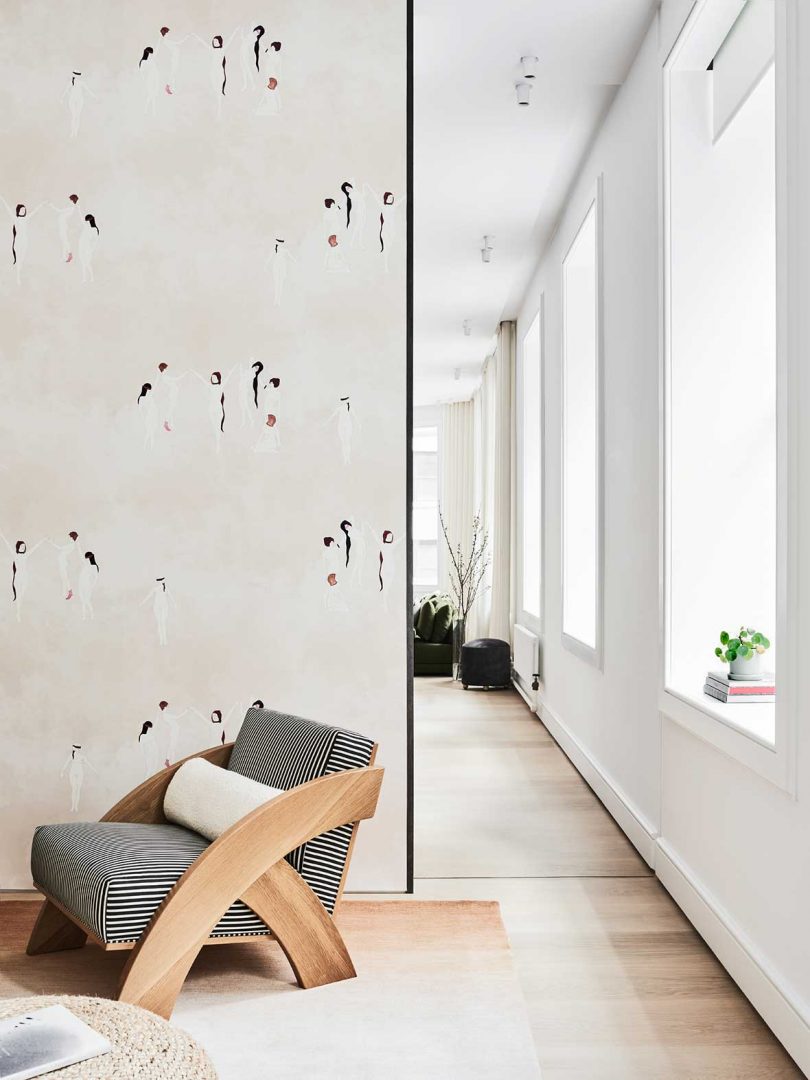 The second bedroom, which is also used as an office and rehearsal space, houses a striped Arc Lounge Chair by Moving Mountains (via Colony) and Coven Wallpaper by Maison C (via Temple Studio).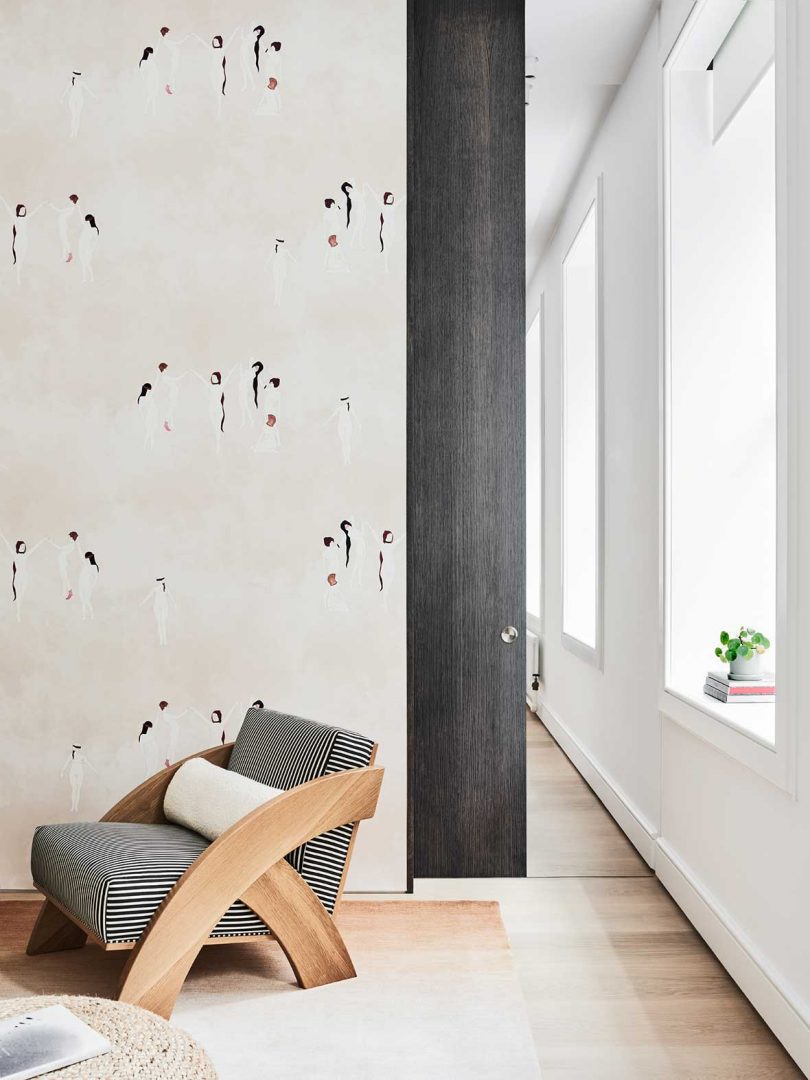 Union Square Loft marks the second collaboration between Worrell Yeung and Colony. "As our partnership with Worrell Yeung grows, so does our design language," says Lin. "We continue to explore the boundaries imposed between architecture, interior design and furniture, pushing ourselves as a team to move beyond what is expected, while creating a home for our customers."
Architecture: Worrell Yeung (Max Worrell, Jejon Yeung, Yunchao Le and Beatriz de Uña Bóveda)
Interior design: Jean Lin from the colony
Photography: Brooke Holm
Lighting designer: Light workshop
Entrepreneur: Bednarz Byggeri
Mechanical, electrical, plumbing engineer: Charles G. Michel Engineer, PC building engineer: Craft engineering study
Audio / Visual: Matrix sound and sight
Wooden floor: Tree
Stone supplier: BAS sten
Mutina biscuit tiles: Stenkilde
Windows: Skyline Windows – Flask
Plumbing fixtures for the bathroom: Fantini AF / 21
Plaster work: Naughbert Plaster