Twelve years after it was shuttered, the derelict Balmain Leagues Club is finally ready for a rebuild after the state government ditched plans to use the Rozelle site as a dirt dump during construction of the Western Harbor Tunnel.
Transport for NSW announced on Tuesday it no longer needed the Victoria Road block for the mega-project, which is due to begin construction in the middle of this year and open in 2027.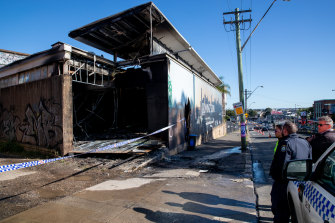 Chinese developer Heworth can now proceed with plans, approved in 2020, to rebuild a Wests Tigers Leagues Club alongside 167 apartments, a town square, arts studio and supermarket, originally valued at $ 400 million.
Heworth's head of property Christopher Walsh said the developer was relieved "this four-year debacle now looks to be over, notwithstanding the unresolved matter of compensation".
The firm intended to progress the plans and would meet with the club and other stakeholders, he said. "As a result of the indecision over the use of the site, we've suffered enormous financial losses and our plans to deliver a new club for the Balmain Tigers and their members has been delayed."
Last week, the Inner West Council unanimously voted to condemn Transport for NSW after a fire tore through the abandoned premises the previous weekend, and it called on the state government to declare its intentions for the site.
Labor mayor Darcy Byrne welcomed the news the block was no longer required for the tunnel but said the building needed to be knocked down as soon as possible to ensure the site was safe.
"It's bizarre that the government has sat on the site for two years whilst multiple fires have taken place and are now reversing their position and handing the site back," Byrne said.