Reporter James Massola has filed this dispatch after three days on the campaign trail with the prime minister and wife Jenny Morrison.
Three days, three housing estates in three marginal seats.
Scott Morrison's focus in the final week of the 2022 election campaign is clear.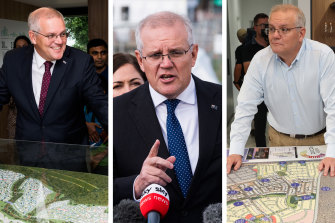 The prime minister's visit to a housing estate in Armstrong Creek in the Victorian seat of Corangamite – margin 1 per cent – was his third of the election campaign and his fifth since December last year.
Much like the Queensland seat of Blair (Labor held, margin 1.2 per cent), which he visited on Monday and Lingiari (Labor held, margin 5.5 per cent) in the NT, which he visited on Tuesday, it's the sort of seat that Morrison must win if he is to hang on to the prime ministry.
Perched near the corner of Serenity and Rarity streets, the nearly completed home offered the perfect backdrop for the prime minister to keep selling the Coalition's housing policy, which lets first home buyers use up to $ 50,000 of their superannuation to get into their first home.
Morrison chatted amiably with first home buyers during the visit, noting that while they'd be moving into their new home on Saturday, he'd be pretty busy elsewhere.
Hopefully, they'd have help from their friends to carry in the couches and get the place set up, he added, and they could sit down with a glass of wine on Saturday evening.
But a day after Anthony Albanese endured some tough questioning about the opposition's policy costings, Morrison ran into headwinds of his own.
The PM confirmed Australians may have to wait until the end of 2023 for a real pay rise, according to the most recent forecasts from the Reserve Bank, because inflation is outstripping the pace of wages growth.
And he confirmed petrol prices will rise by 22 cents per liter in September – as planned – when the temporary cut to fuel tax excise ends.
For a prime minister campaigning on plans to help Australians with the cost of living pressures, that's a pair of admissions that many will not welcome.
But, then again, serenity is a rare thing during the election campaign.