With two days to go until the polls, Scott Morrison has made a curious campaign stop on his final visit to Tasmania.
Two of the Liberals' most marginal seats are Bass, held by Bridget Archer with a margin of just 0.4 per cent, and Braddon, held by Gavin Pearce with a margin of 3.1 per cent.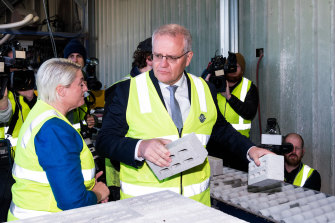 Last night, the prime minister stopped in Braddon, where he famously crash-tackled seven-year-old Luca Fauvette during soccer training.
This morning he stopped at the seat of Lyons. That's a seat that Labor holds with a margin of 5.2 per cent, making it semi-safe.
How to explain this decision?
Reporter James Massola is traveling with the prime minister this week and notes that the MP who holds the seat of Bass may be part of the reason.
Advertisements for the independent-minded Archer, who has crossed the floor to vote against the government in parliament, have run in the Launceston Examiner under the tagline "Keep Bridget in Bass" – and have been shorn of Liberal Party branding, Massola reports.
Further, he adds that there have been suggestions the prime minister's personal standing could damage Archer's chances of retaining the seat.
So this makes Morrison's absence in Bass notable, particularly given we are approaching the final hours of the campaign.
But it could also spell confidence on the government's side.
While Labor has high hopes of being able to win one or both of the two Liberal Tassie seats, the Liberals believe they could snatch Lyons held by Brian Mitchell.
This morning the Coalition's Lyons candidate Susie Bower joined Morrison for visits to the Whitemore Tennis Club and then to a local business, Island Block and Paving.
Sarah Hirst, a member of the tennis club, said it was the first time a prime minister had visited Whitemore.
Agriculture was a "centrepiece" of the local community, she said, an investment in irrigation by the local and federal governments had been welcomed.
"This is a conservative community, they really want people who are happy to stand up for the local community."