Labor leader Anthony Albanese said real wages were now suffering their biggest fall in at least 20 years.
"Under Scott Morrison, real wages are plummeting as the costs of living are skyrocketing. Australian workers are paying the price for a ticket of bad policy and failures, "he told the National Press Club.
Since the ABS started the wage price index in 1998, annual wage growth has out-paced inflation by an average of 0.5 per cent. Wednesday's 2.7 percent gap between inflation and wages is the largest on record.
Inflation has now grown faster than wages for a record seven consecutive quarters. The Reserve Bank expects inflation to remain higher than wage growth until the end of next year.
At the state level, wages are growing fastest in Tasmania at an annual rate of 2.8 per cent. They are growing at 2.6 per cent in NSW and Victoria while the Northern Territory has the weakest growth at just 1.9 per cent.
Loading
Asia-Pacific economist for job site Indeed, Callam Pickering, said cost of living pressures were clearly hurting Australians.
"After accounting for inflation, Australian wages have collapsed over the past year. The disconnect between wage growth and inflation would be devastating for household budgets across the country, "he said.
The ABS said across the private sector, average wage increases through the March quarter were 3.4 per cent. But just 15 per cent of the population enjoyed the increases.
Senior ANZ economist Catherine Birch said the wage result meant the Reserve Bank would press on with a quarter percentage point increase in interest rates at its next meeting rather than a 0.4 percentage point jump.
She said people expecting wages to out-pace inflation any time soon would be disappointed.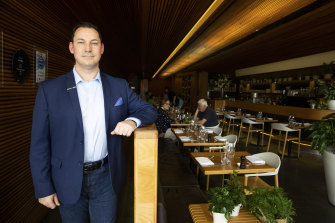 "We still expect wage growth to accelerate through 2022 and 2023, although real wages will continue to fall for some time," she said.
The Australian Catholic Bishops' Conference, representing the church that is one of the nation's largest employers, told the industrial umpire Australia could afford a 6.5 per cent minimum wage rise. But employers said any increase would reverberate across the workforce, and the budget's cost-of-living sweeteners should be factored in.
Stephen Mackie, speaking to the Fair Work Commission on behalf of the Catholic Church, said any dollar saved from paying parents on the national minimum wage – currently $ 20.33 an hour – "has a price attached" elsewhere, including burdens arising in health and criminal justice systems.
Loading
"We can afford an increase, it's very easy to sit here and catastrophe about the future, but it brings us to a simple point: the workers on national minimum wage have been waiting for a long time for a significant increase," Mackie said.
"The problem is children are being brought up in poverty."
The Fair Work Commission's review of the minimum wage has already generated a major political battle after Albanese backed a 5.1 per cent rise meet the headline inflation rate.
The call from the Catholic Church, which employs about 220,000 people nationally, eclipses the ACTU's claim for a 5.5 per cent increase, and vastly exceeds those of major employer groups who also fronted the commission during the hearing.
Loading
Wes Lambert, head of Restaurant and Catering Australia, joined with the Master Grocers Association, representing smaller retailers, in calling for a wage freeze to prevent businesses from reducing workforce hours or shutting down.
He warned the commission's minimum wage review panel they would be the "creators of inflation if they make wages too high."
The Australian Industry Group, which is asking for a 2.5 per cent rise, called for the $ 420 boost in the low and middle income tax offset in this year's budget to be factored into the commission's deliberations.
The Australian Chamber of Commerce and Industry, which has called for a wage increase of 3 per cent, told the commission a rise would not just affect those on the minimum wage and the 2.6 million workers linked by awards, but would create an expectation throughout the workforce.
"It would be a much larger share of the workforce that gets an increase associated with the decision you make," ACCI's Peter Grist said, while his colleague Scott Barklamb warned against an "overconfident or over-adventurous increase" that could be taken up by people on enterprise agreements.
Cut through the noise of the federal election campaign with news, views and expert analysis from Jacqueline Maley. Sign up to our Australia Votes 2022 newsletter here.