A rejuvenated James Hird will bring seven years of lessons from the business world and tips from some of European soccers top managers – plus his own reflections from Essendon's ugly drugs scandal – when he makes his return to AFL coaching alongside Mark McVeigh this weekend.
There will be a mini-reunion of ex-Bombers players in the Greater Western Sydney coaches box on Sunday as interim boss McVeigh takes charge of his first game against the West Coast Eagles, flanked by Hird and another former teammate, Dean Solomon, who have joined his staff for the rest of the season.
Hird has not had a hands-on coaching role in the AFL since leaving Essendon in 2015, having served a 12-month ban stemming from Essendon's supplements saga. He was also hospitalized after a drug overdose and suspected suicide attempt in 2017, but is now said to be interested in coaching again, and is expected to apply to become Leon Cameron's permanent successor at the Giants, where he has served as a consultant to the club's leadership group this year.
"It's been well documented, what he's gone through," said McVeigh, who was one of 34 Bombers players who were found guilty of using illegal substances in the 2012 season when Hird was coach, and was also suspended from working as an assistant coach. at the Giants for a period.
"We understand where that landed. Whether people agree with it or not, that's their opinion. I think he had a lot of self-reflection and he's gone away and done some pretty amazing things in the business world, he's very busy, he's been away for a long period of time.
"He's someone that keeps a close eye on football, he certainly studies the game, I know he travels throughout Europe at times and goes to the major soccer clubs throughout Europe.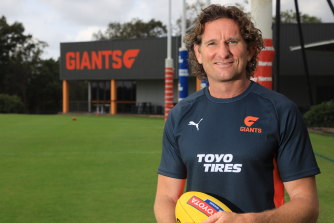 "In terms of his own development, you'd have to ask him … I'm not going to speak for him, he knows who he is, what he's done over the last 10 years, and what he's brought to us is this fantastic program for our leaders to follow and he challenges them regularly, whether that's when he's here or via a Teams or a Zoom. We've been very fortunate to have him. "
Hird opened up on his affinity for soccer – and his work as a consultant during negotiations over the sale of clubs in England, Italy and Spain – in a podcast interview three years ago with comedians Ed Kavalee and Santo Cilauro.