The block could happen anytime from June 1, when the M&A deal completes and BHP makes its in-specie dividend payment. The new Woodside shares are scheduled to trade from June 2.
The big question is how many Woodside shares end up in the sale facility, which would determine the block size.
BHP reckons there could be as many as 47 million Woodside shares due to investors in ineligible jurisdictions (mostly South Africa) based on its shareholder register as at February, which would be first into the facility.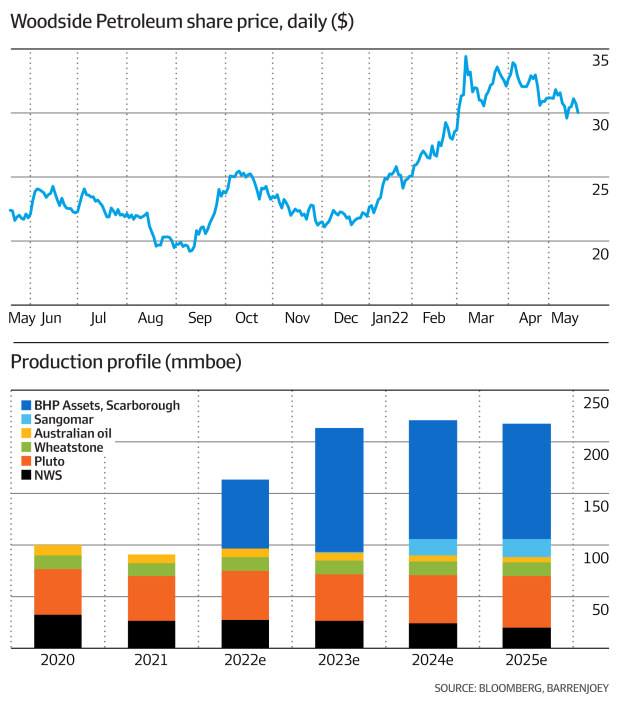 Then there's the miner's small parcel holders, who have until May 24 to tip into the sale facility. BHP has plenty of small holders – 254,525 investors with less than 500 shares as at August 20 last year – although investor relations types reckon it's hard to see too many of those tipping into sale facility, given the required paperwork and opt in nature.
So, if it's mostly offshore investors in the facility, and you assume BHP's register hasn't just changed too much since February, there could be 47 million Woodside shares up for grabs. At $ 30, which is where they were trading on Thursday, it would mean a $ 1.4 billion-odd block trade.
It shapes for a fascinating fortnight for Woodside shares. Markets are volatile, and there's bound to be heightened turnover in Woodside shares as BHP investors receive their stock and act accordingly. There should be plenty of meat for all the institutional equities desks.
And, then there's the prospect of the big block trade, at an otherwise quiet time for equity capital markets deals.
It comes after Woodside shareholders voted overwhelmingly in favor of the company's BHP Petroleum purchase on Thursday.