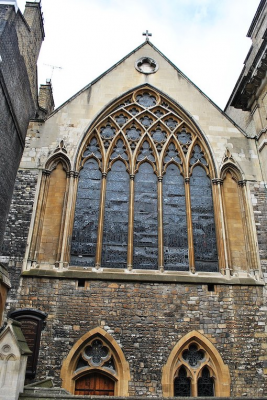 Source: ACN
Based on Elena Curti's recent book, Fifty Catholic Churches to See Before You Die, supporters of Aid to the Church in Need will be walking 10 miles to 10 churches in London tomorrow: Saturday 21st May 2022. Starting the day at Farm Street in Mayfair at 8.30am the route will include England's oldest Catholic church, St Etheldreda's, Charterhouse, Tyburn Convent, St Patrick's Soho Square, and Notre Dame de France.
There will be a stop at each location for 30 minutes with prayers (led by Father Dominic Robinson SJ in the morning and ACN director Dr Caroline Hull in the afternoon) and a short talk from Elena Curti about the churches and their history.
The weather forecast looks promising: 20 degrees with sunny intervals and gentle breeze.
All money donated to Ten Churches in Ten Miles will go ACN's work in countries where Christians are in desperate need and suffering persecution. All around the world Christians are persecuted for their faith. Thousands are in need of food, medical supplies and shelter, things we take for granted. The Covid-19 pandemic has only made things worse.
Please consider joining the walk or sponsoring sponsoring the team if you can.
MEETING PLACES
Start location: Farm Street – The Church of the Immaculate Conception, 114 Mount Street, W1K 3AH
Start time: 8.30am inside the entrance (You may wish to join us for the 8am Mass)
Lunch stop: Newman House in the John Fisher Room, 111 Gower Street WC1E 6AR (Approx. 1pm)
Facilities: There will be toilets and facilities along the route that we will be able to access.
Finish location: St Peter's Italian Catholic Church, 136 Clerkenwell Road EC1R 5DL
Finish time: 6pm approximately (You may wish to join the 7pm Mass)
Contact on day: Bryony 07984 173428
£ 40 can support displaced Christians in Ukraine with immediate emergency aid.
£ 120: can support Sisters in Ukraine for three months in their outreach.
LINKS
Donate: www.justgiving.com/campaign/tenchurchestenmiles
Video: www.youtube.com/watch?v=4lYstFMvi-E
.