Britain's bovver booted bad boy of fashion, Alexander McQueen, will stomp in the petite footsteps of French couturier Gabrielle Chanel as the featured designer for this summer's blockbuster exhibition at NGV International.
Alexander McQueen: Mind, Myth, Muse, currently on show at LACMA (Los Angeles County Museum of Art), will travel to Melbourne for a gala opening on December 10, where 60 garments and accessories from the US institution will be enhanced by nearly 50 designs by McQueen from the NGV collection.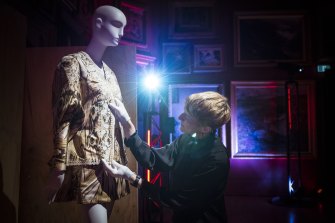 It follows the success of Gabrielle Chanel: a Manifesto which opened in December for nearly 5 months.
McQueen, who used his Savile Row tailoring skills and artistic vision to give the world bumster pants, skull scarves and theatrical runway shows, died by suicide aged 40 in 2010. Despite this, LACMA curator Clarissa Esguerra says the show is a joyous celebration of his work.
"There's so much joy and hope," Esguerra said. "We found ourselves butting up against everyone wanting to cast him in the light thrown by the skulls and death. When you look at his collections, there's always a story of hope. In death comes light. "
The clothing drawn from collections such as Highland Rape, The Widows of Culloden spirit Plato's Atlantis will appear "in conversation" with paintings, sculptures and artworks from LACMA and the NGV, to highlight McQueen's varied inspirations, including Scottish history, cinema, Joan of Arc and biological hybrids.
"Our colleagues at the V&A in London and The Met in New York had already done exceptional retrospectives," Esguerra said. Alexander McQueen: Savage Beauty broke attendance records at The Met and the V&A. "We wanted to avoid doing anything like that. It's been done. Because McQueen himself was an encyclopaedic thinker it made sense to show these works in conversation so that people can understand his work in a different way. "
Fashion exhibitions have become crowd-pleasing staples at the NGV, which has dedicated past shows to Dior, Jean Paul Gaultier and Viktor & Rolf.