A similar scenario awaits during the two-Test component of the Sri Lankan tour, beginning next month.
The selectors rank players according to their perceived value in Test, one-day and Twenty20 internationals, with players who compete in all three formats considered the most valuable.
Cricket Australia's top earners
Pat Cummins: $ 1.8m *
Josh Hazlewood: $ 1.6m
David Warner: $ 1.5m
Mitchell Starc $ 1.4m
Steve Smith $ 1.3m
Marnus Labuschagne $ 1.2m
Nathan Lyon $ 1.1m
$ 17 million payment pool for 20 contracted players
Minimum contract: $ 316k
Marketing pool $ 50k to $ 400,000
Match payments:
Tests: $ 18,000
ODIs: $ 7,000
T20s: $ 5,500
Overseas tours: 40% match fee bonus
* Captain's bonus $ 200k
Over the past year, Hazlewood has become one of Australia's leading T20 players. While his ranking on the International Cricket Council's Test bowling table has fallen to 10th following his injury-marred summer, he is ranked third by the ICC as a one-day and T20 bowler.
Australia is the highest-ranked Test nation and has four batsmen listed among the ICC's top 10, Labuschagne (1), Smith (2), Usman Khawaja (7) and Travis Head (9), while Cummins is the leading bowler.
Last year, the top five players on the Cricket Australia rankings were Cummins followed by Smith, Warner, Starc and Hazlewood.
The national selectors rank the players according to an array of metrics including their performances over the past 12 months but also their prospects of selection for the next 12 months, which may vary wildly according to the tours and tournaments on the calendar.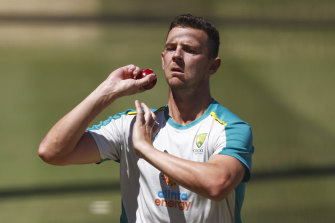 The next year for Australian cricket will feature Test tours of Sri Lanka, India and England, home Tests against West Indies and South Africa, and a Twenty20 World Cup on home soil in October and November.
The top few places on the CA contract rankings have remained remarkably consistent since 2016, after the retirements of Michael Clarke, Shane Watson, Brad Haddin and Mitchell Johnson all happened within the space of a few months.
That's of course with the exception of the 2018-19 list when Smith and Warner were banned for their parts in the Newlands scandal.
Loading
Effectively, that decision from the CA board saw Cummins leap from somewhere in the top 10 to an unassailable position as the team's most valuable bowling asset and an all-format cricketer.
Smith and Warner resumed lofty rankings upon their returns to the team for the 2019 World Cup and Ashes double tour to England.
Alongside Starc and Hazlewood, they have formed an NSW core that has, at times, frustrated the efforts of other players to rise further up a list settled upon by the national selectors.
Certainly the claims of Labuschagne for a higher perch have been strengthened by his addition to the white-ball squads since 2020.
What has remained consistent more or less ever since the 2011 Argus review of Australian cricket is that Test players earn a premium remuneration, reflecting the format's primacy in the eyes of CA. While seldom playing limited overs games, Lyon has consistently commanded a top 10 spot.
At the same time, white-ball specialists – the likes of captain Aaron Finch, Glenn Maxwell, Adam Zampa and Marcus Stoinis – get to augment their pay packets with Big Bash League deals that can be worth up to $ 200,000 a season.
CA, meanwhile, confirmed the appointments of Dan Vettori and Andrew Borovec as Andrew McDonald's assistant coaches, with Clint McKay also among the support staff for the multi-format tour of Sri Lanka.
The men's team also has a new psychologist, Mary Spillane who replaces Michael Lloyd, a long-time member of the team on tour and an especially vital source of support following the death of Phillip Hughes in 2014.