Previously, a level five cook at the MCG was paid a base rate of $ 38.45 an hour under an EBA. Now, under the hospitality award, they are on $ 31.45 / hour – reducing pay across an eight-hour weekday shift by $ 56.
However, on busy weekends during AFL matches, pay rates are broadly similar, with the previous EBA still ensuring all employees were paid above the award, albeit by as little as 10 ¢ in some cases.
Brown said award wages were common across the industry and did not say whether Delaware North would pursue an EBA like the previous contractor.
"Beyond [the Hospitality Industry General Award]we have invested significantly in incentives into the market in the form of sign-on, first-shift, retention and referral bonuses, as the industry rebounds, "he said.
United Workers Union spokeswoman Shara Teo said Delaware North and the Melbourne Cricket Club (MCC) should "seriously consider" negotiating an EBA for hospitality workers, with the award "nowhere near what we would consider a living wage".
"The Melbourne Cricket Club needs to acknowledge that, as the host employer, they will need to do more to improve wages and conditions to attract and retain the requisite number of staff a venue the size of the MCG would require," Teo said.
"In the current environment, it is no longer possible for organizations like the MCC to line their pockets by subcontracting out labor at award wages and conditions."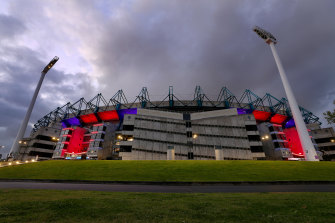 In response, an MCC spokesperson said contractor Delaware North's paid staff under the award "which also includes penalty rates for weekend and public holiday work when the vast majority of MCG shifts are available".
"The HIGA rates have been set federally and are commonly used across the country in most hospitality settings," a spokesperson said.
Meanwhile, former Olympic Room waiter Lee – who is not her real name – said it was "a bit annoying" to hear the MCG call for more hospitality staff without improving working conditions at the venue.
Lee said she often worked with colleagues who were paid higher wages through third-party staffing agencies, while regular employees were paid award rates. She has also worked up to seven hours without a break, although she was paid overtime to compensate for this.
Bartender Jonathan currently works for Delaware North while he studies project management. The international student primarily works at Marvel Stadium and has covered shifts at the MCG.
Loading
The 31-year-old said working at AFL matches was still "a great experience", but said working alongside better paid agency staff was "unfair".
"They are not Delaware people and they are earning more than me," Jonathan said.
Managing director Brown said Delaware North would continue to use third-party agencies to fill casual shifts.
"However, as we grow our team, we anticipate scaling down our reliance on these agencies," he said.