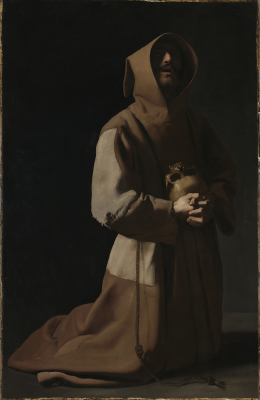 The first major art exhibition in the UK to explore the life and legacy of Saint Francis of Assisi (1182–1226), one of history's most inspirational and revered figures, will be staged at the National Gallery next spring.
The exhibition presents the art and imagery of Saint Francis from the 13th century to today and examines how his spiritual radicalism, his commitment to the poor, his love of God and nature, as well as his striving for peace between enemies and openness to dialogue with other religions, make him a figure of enormous relevance to our times.
Curated by National Gallery Director, Gabriele Finaldi, and the Ahmanson Research Associate Curator in Art and Religion at the National Gallery, Joost Joustra, Saint Francis of Assisi brings together paintings from across the National Gallery's collection – by Sassetta, Botticelli, and Zurbarán – with international loans, including Caravaggio's Saint Francis of Assisi in Ecstasy (Wadsworth Atheneum Museum of Art, Hartford, about 1595), Josefa de Óbidos's, Saint Francis and Saint Clare adoring the Christ Child in a Manger (Lisbon, Private collection, 1647), as well as works by Stanley Spencer, Antony Gormley, and Arte Povera artist, Giuseppe Penone. The exhibition will include a new commission from Richard Long (b.1945).
The selected artworks, ranging from medieval painted panels (several predating the earliest paintings in the National Gallery), relics and manuscripts to films and even a Marvel comic book, will throw light on how Saint Francis has captured the imagination of artists, and how his appeal has transcended time, continents and differing religious traditions. From his native Umbria, Saint Francis's image spread rapidly to become a global phenomenon. From the earliest written biographies by Thomas of Celano and Saint Bonaventure (13th century) and the first painted altarpieces and murals (notably those attributed to Giotto in the Upper Church of San Francesco at Assisi), Francis' life became both an example worthy of imitation, and a continuous source of artistic fascination. His powerful appeals for peace and human solidarity, his engagement with Islam, and his embryonic environmentalism are themes that still resonate with us today.
The exhibition will be accompanied by a fully illustrated publication and by a rich program of lectures, events, activities, and digital content.
Exhibition supported by Howard and Roberta Ahmanson, The Vaseppi Trust
The exhibition will run from 6 May – 30 July 2023 in the Ground Floor Galleries. Admission free.
.