The sale comes four years after Young first let buyers through the apartment on the quiet, originally with $ 20 million expectations that were raised to $ 25 million at the start of an advertising campaign last year.
It was billed as sold on Friday afternoon but, given no comment from Raine & Horne Double Bay's Martin Maskin, it was left to sources to suggest the $ 23.5 million result.
Young bought the top-floor spread set behind the Bondi Icebergs in 2006 for a then-high of $ 9 million, which was beaten in 2013 when Will Vicars purchased two penthouses in the Pacific Bondi Beach for $ 21 million.
Young's sale tops the $ 20.1 million record for a single apartment set a year ago, when online gambling founder Joshua Chan bought from yachtie James Mayo.
Pearl Beach scores big
Former AFL player and Sydney Swans chief Kelvin Templeton has long made the trek north from his Melbourne home to holiday at Pearl Beach but it looks like that has come to an end given he has sold his getaway for $ 6 million.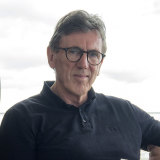 The Brownlow medallist bought his Hamptons-style beachfront retreat in 2014 for $ 2.94 million in a company name.
Coast Realty's Stuart Gan did even better on the nearby sale of the beachside getaway of former Goldman Sachs managing director Robert Tsenin and his wife Estelle. It was listed with an $ 8 million guide late last year and sold for what local sources said was $ 8.15 million.
Sticker wars
Mosman-bound political lobbyist Michael Kauter and his medico husband Professor David Gracey no doubt drew a big sigh of relief this week when former PwC partner Greg Hall and his wife Jody bought their designer Woollahra home for about $ 10.25 million.
After all, the three-bedroom residence with basement garage and a swimming pool had already been scheduled for auction with a $ 10 million guide, only to see the competition canceled by Ray White's resident reality television star Gavin Rubinstein.
Rubinstein has no doubt been busy shooting season three of Amazon Prime's local reality series Luxury Listingswhich might explain why it was left to its competitor at Ray White Woollahra, Randall Kemp, to sell it.
Not that you'd know that to look at the billboard. Within a day of Kemp's sticker going on the billboard, someone had torn it down and put up a sticker for Rubinstein.
Meanwhile, the Halls did well on the sale of their nearby home, Spicer House, which they bought in 2015 for $ 5.5 million from mining heiress Sarah Louise Fudge. It sold for about $ 15 million after just a week on the market through PPD's Alexander Phillips.