In case you've missed all the news and preparations, the Queen's platinum jubilee is being celebrated this June in the UK.
The jubilee celebrates 70 years of Queen Elizabeth II serving the British people and the Commonwealth.
As fans of the English royal family and their fascinating story, we can not think of anything better than to join the festivities by serving up some delicious and very British classic desserts.
It's a lovely excuse to enjoy some truly English sweet treats and to get on board with the spirit of celebration.
9Honey dropped by Today Extra to dish up some delicious desserts. Let's tuck into them.
Trifle
Traditionally trifle is a layered dessert of sponge cake, jelly, cream, custard and fresh berries. Typically it is very berry-oriented, celebrating England's strawberries and cream summer treats.
But in honor of the Queen's Platinum Jubilee, a competition was held by the BBC for a new dessert to represent the celebration. The winning entry was from Jemma Melvin and is a seven-layer lemon Swiss roll and amaretti trifle.
So yes, it's trifle, but big on citrus and almond flavors.
You can find the full recipe here, with each and every step for making the seven layers from scratch – including custard, jelly and cake. Not everyone has time to do this, so we made a version of the trifle with the same flavors and using ingredients from the supermarket.
Cheat's Platinum Jubilee trifle:
Layer 1
sponge roll (lemon if possible, but jam is fine too)

lemon / passionfruit jelly
Layer 2
double thick custard

amaretto biscuits

lemon curd

marmalade (mandarin if possible, but orange is fine)

tinned mandarins, drained
Layer 3
whipped cream

white chocolate of choice, to decorate

extra amaretto biscuits, to decorate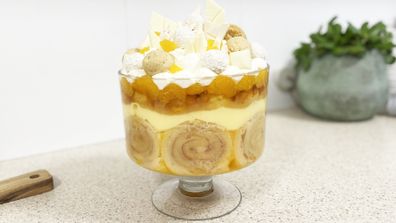 Method:
Layer 1:

Cut your sponge roll into pinwheels and arrange them around the edge of a trifle bowl to show off the swirl. You can use a dot of lemon curd to hold them in place. Make jelly as per the packet instructions and then pour in the jelly to come up the sides of the bowl above the jam roll pieces. Allow to set for four hours or until firm.

Layer 2:

On top of the jelly layer, spoon over the double thick custard to make a custard layer and then dot your amaretto biscuits around the edge. Spoon marmalade and lemon curd around the edges and then scatter across the middle too. Press drained mandarin segments around the edge of the bowl to create a pretty pattern.

Layer 3:

Pipe whipped cream all over the top, creating some height in the middle. Break the white chocolate into shards and decorate the top of the cream with the chocolate pieces, extra biscuit and mandarin pieces and anything extra you'd like to add. Chill until ready to serve.
Victoria sponge
Another classic British dessert is the Victoria sponge or Victoria sandwich cake.
This is a classic, whipped sponge, with raspberry or strawberry jam in the center and whipped cream. The name comes from the story that Queen Victoria apparently loved a slice of the cake with a traditional English afternoon tea. As a result it is sometimes referred to as The Royal Victoria Sponge.
RECIPE: Traditional Victoria sponge cake
You can make it from scratch and if you make sure you whip it properly you'll get a featherlight sponge cake. But if you're short on time, the supermarkets have pre-made sponges ready for you to fill and decorate yourself. Or you can always use a packet cake too. Butter cake filled with jam and cream is richer and heavier, but just as tasty.
RECIPE: Victoria sandwich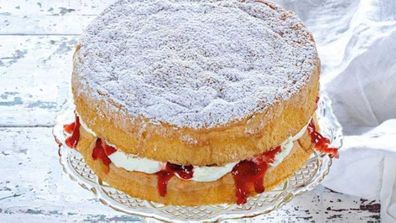 Eaton Mess
The Eaton mess is just a fancy way of saying 'I stuffed up the pav' as far as we're concerned. But we love it. You can, or course, make the meringue from scratch and then smash it up. But if you're breaking it up anyway, then buying it is a great way to save time.
Just smash up your meringue, roll some berries in sugar, whip some cream and then dollop it all together in a bowl and give it a swirl. It's easy, it's fun and it's a great way to turn a mess into a classic dessert. It's said that the dessert was served in the Eaton tuck-shop (or school canteen) in the 1930s.
RECIPE: Boozy Eton mess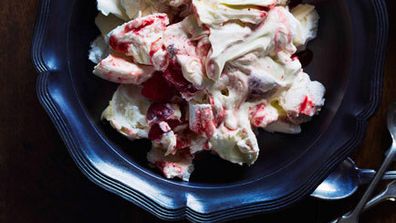 For a daily dose of 9Honey, subscribe to our newsletter here.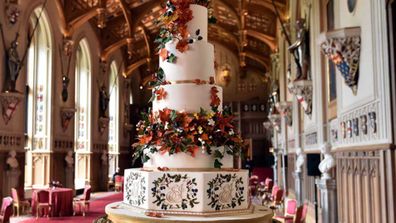 Royal wedding cakes through the years