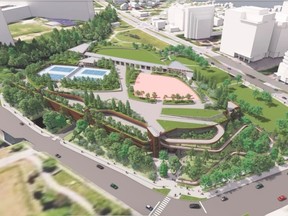 Article content
A hospital mess of the city's making
Article content
In your recent article about the new mega-hospital at the farm where the writers assume Ottawans will donate $ 400 million to begin constructing a parking arcade, they neglected to mention some crucial differences between Ottawa and other Ontario cities. In cities like London, a long, respected public consultation existed before the site was selected. This never happened in Ottawa. A mega-hospital at the farm was imposed, not chosen.
Ottawa chose via a six-month NCC public consultation / planning process Tunney's Pasture, where parking is presently available at no cost and the site has no environmental constraints. At the farm, 17 pristine acres will be immediately converted to asphalt. Yet, the choice of the people, Tunney's, was rejected in one meeting of the hospital board with a two-sentence explanation. No credible reason was ever given because there was none. Everything that has transpired since then confirms this. The farm site is on a fault line, has terrible access, (half a kilometer to the nearest transit station) and will destroy a heritage, green landscape.
Article content
Questions such as "does Ottawa even need a mega-hospital," were never asked or considered. Medicine today is moving quickly towards more flexible, smaller hospitals, not downtown monoliths. Asking Ottawans to pay for a site which will dimmish the quality of life in the city center and not serve people in suburban Ottawa should be rejected. Civic hospital executives asked for this mess, let them pay for it.
Clive Doucet, retired city councilor,
Capital Ward
Speaking of excessive costs…
A news organization this week reported with disdain and disgust at tax dollars spent on excessively costly catering and travel during Goveror General Mary Simon's recent trip. Should I expect the same outrage on the useless cost of fuel when two CF-18 fighter jets did a fly-over at the start of the Redblack's game?
Article content
Joanna Luciano,
Carleton Place
Free gas for ships
So Irving Shipbuilding has decided that, after bidding on and being awarded the contract to build Canada's new warships, it needs at least $ 300 million dollars of taxpayers' money to upgrade its facilities, rather than using its own money.
So I guess it would be reasonable to assume that the Irvings, one of the country's wealthiest families, would be only too happy to reward the generosity of Canadian taxpayers with free gas at all its Irving gas stations for the next year, right?
Sounds fair, don't you think?
Mark Cosgrove,
Orleans
Ryan Lythall gains a new follower
Ryan's story, while intense and thought-provoking, made me smile. I remember Ryan as a young teenager, I believe he was on 5E at CHEO on the many many occasions that my son Lucas was in hospital. He was a dynamo then and it sounds like he is still. Well done Ryan. I will start following your column.
Debbie Robinson,
Laurentian Valley