Celebrity couple Lisa Curry and Mark Tabone have revealed why they are reluctantly leaving their beloved hinterland haven and wellness retreat.
The three-time Olympian swimmer, entrepreneur and grandmother and her entertainer husband bought the picturesque 26-acre former horse property at Crohamhurst in 2017.
They had a business vision for their mountain hideaway that is only 10 minutes from the shops of Beerwah, Landsborough and Maleny, and 20 minutes to the Bruce Highway.
As well as creating a wellness and fitness retreat and wedding and events venue from the ground up, they have welcomed the privacy of the personal sanctuary that lies in the valley between Peachester and Maleny on the Blackall Range.
And it has been a godsend after recent family tragedies.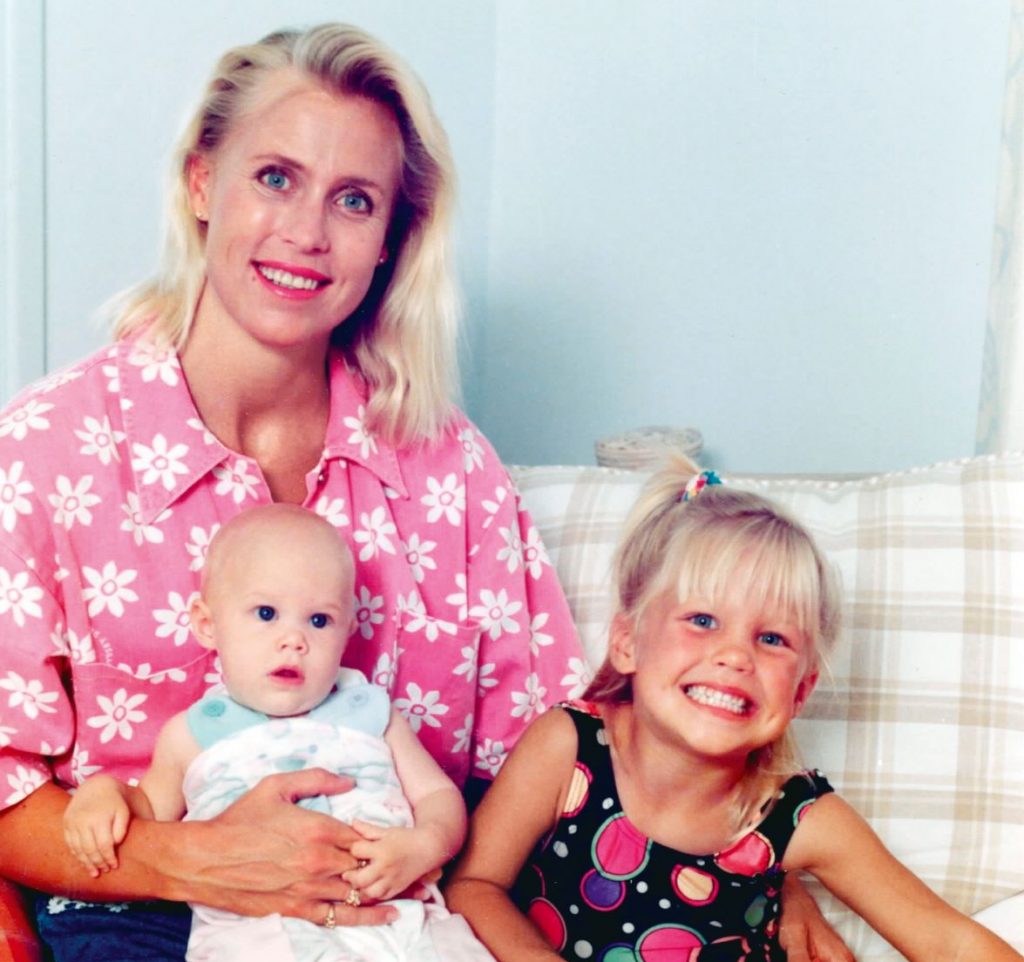 Our collective hearts went out to Lisa, former husband Grant Kenny and their adult children Morgan and Jett after beloved eldest daughter Jaimi died in 2020. She had battled mental illness and associated conditions much of her 33 years.
Only 18 months later, Lisa's mother Pat passed away in an aged-care facility on the Sunshine Coast at the age of 86.
The devastating grief at losing her two "rocks" in such a short time eventually led Lisa to clarity of thought about the importance of being closer to family, the preciousness of life and the need to fulfill dreams and goals today.
"It's not until you lose family that you realize more than anything that life is short, so it's important to live it well with the people you love the most," she said.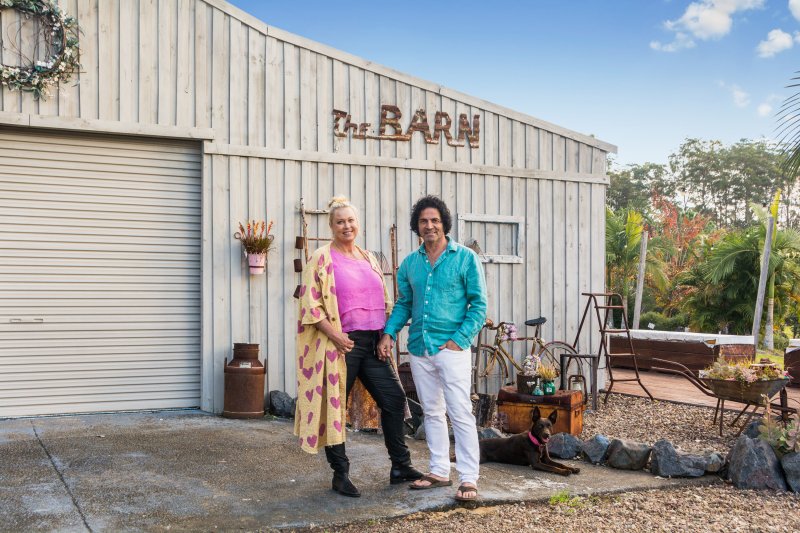 Lisa co-owns and runs her business Happy Healthy You – an online company offering natural supplements and education to help with women's health and wellness issues, and Mark travels for his entertainment gigs most weekends.
In addition to their busy work lives, the couple welcomed grandchild number three in 2022 after Morgan gave birth to her third son last month.
Lisa relishes babysitting a couple of times each week.
Local journalists supporting local people. Help keep independent and fair Sunshine Coast news coming by subscribing to our free daily news feed. All it requires is your name and email. See SUBSCRIBE at the top of this article
So, while they have shared countless happy memories in Crohamhurst (Mark threw a surprise party at home for Lisa, who turned 60 on May 15), they want to make every moment count with family, including Mark's Montville-based daughter, one of his four adult children.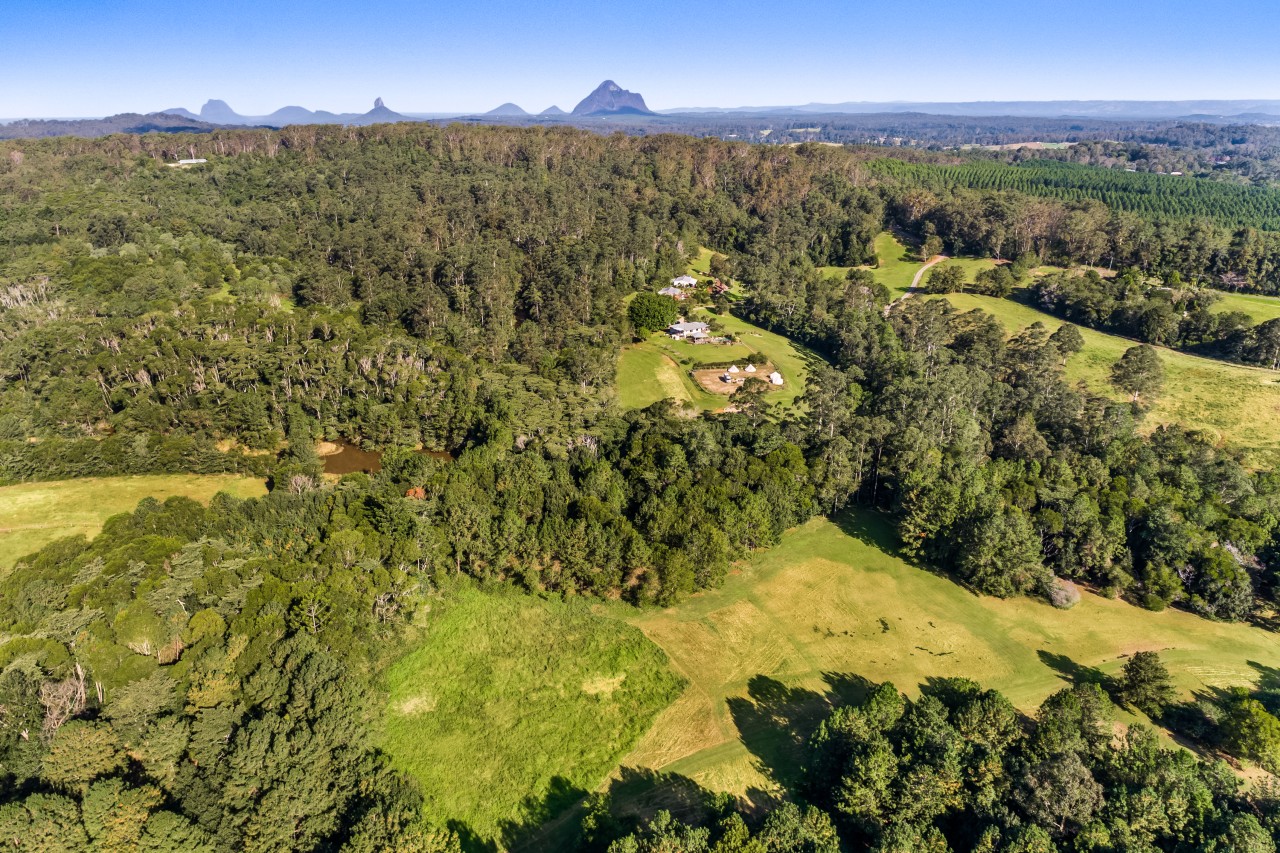 They will say goodbye to the modern, renovated four-bedroom, two-bathroom Queenslander-style homestead with saltwater pool and commit to starting the rest of their lives as soon as possible.
The estate will be sold as part of an expressions of interest campaign being conducted by agents Darren and Jenny Rix, from The Property League.
SCROLL DOWN TO SEE A GALLERY OF THE PROPERTY
"The first 30 years of my life I spent swimming and training," Lisa says.
"The next 30 years was spent raising a family and working, and now, this is the start of my next 30 years of my life, so I think it's time for Lisa and Mark to enjoy life together.
"Between the ages of 60 and 75, it's kind of like the last years. You've got to be active and go and do things – and hopefully 75 will be 85 or 95.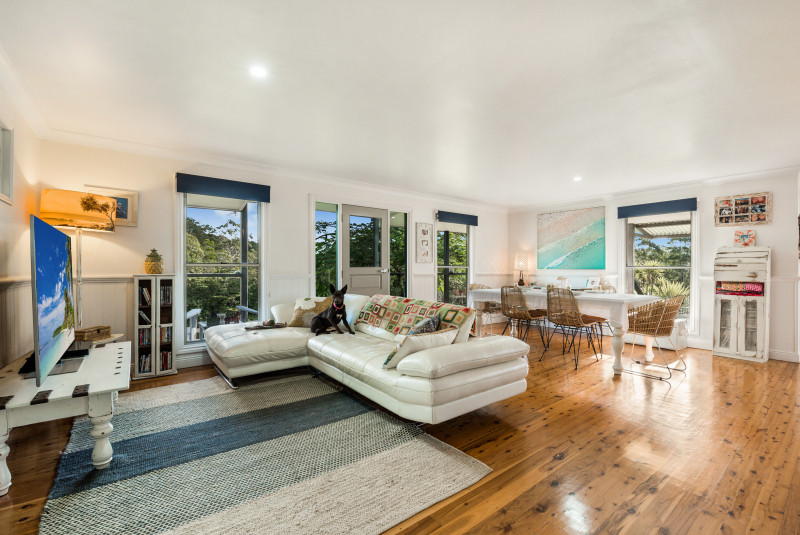 "For a couple like us who have been working our whole lives, we've been talking about what we want to do for the rest of our lives. It includes travel, looking after ourselves and self care so that we can stay active and adventurous… being a fun Granny requires that!
"You have to make those decisions and be realistic about those decisions.
"This is a beautiful place to either work it as a business, or a beautiful place to retire, or just to be in nature, have land all around you and just tinker with your passions.
"Whoever buys this place will be very happy."
But as the expressions of interest campaign to sell the property from June 27 looms large, and they prepare to leave the mountains behind for a property closer to the sea, the bittersweet feelings persist.
"In the mornings, with the birds, it's just beautiful," Lisa says.
"There's so many great things about this property.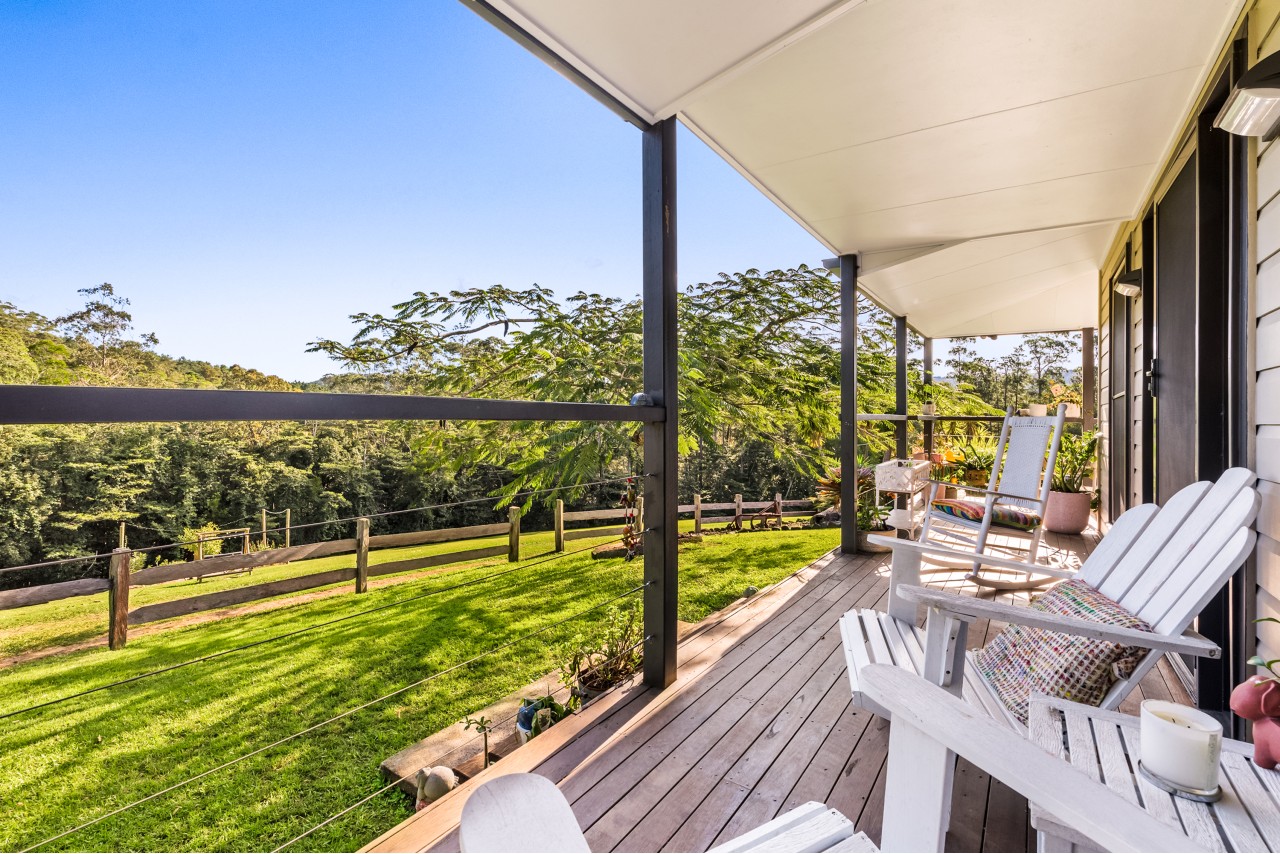 "As we sit here and look out into nature, you can not imagine being anywhere else.
"Everything is so close and yet you're in nature in serenity. There's no noise, there's clear skies, there's a million stars.
Mark admits the pair are "still attached to the property and even the name".
"The name of the property is a combination of our names which is 'Mali' – Mark and Lisa.
"We've been here five years now and it was Lisa's dream to have a retreat space.
"We've kind of achieved the dream and since the tragedy in her family with the loss of Jaimi… I suppose priorities changed."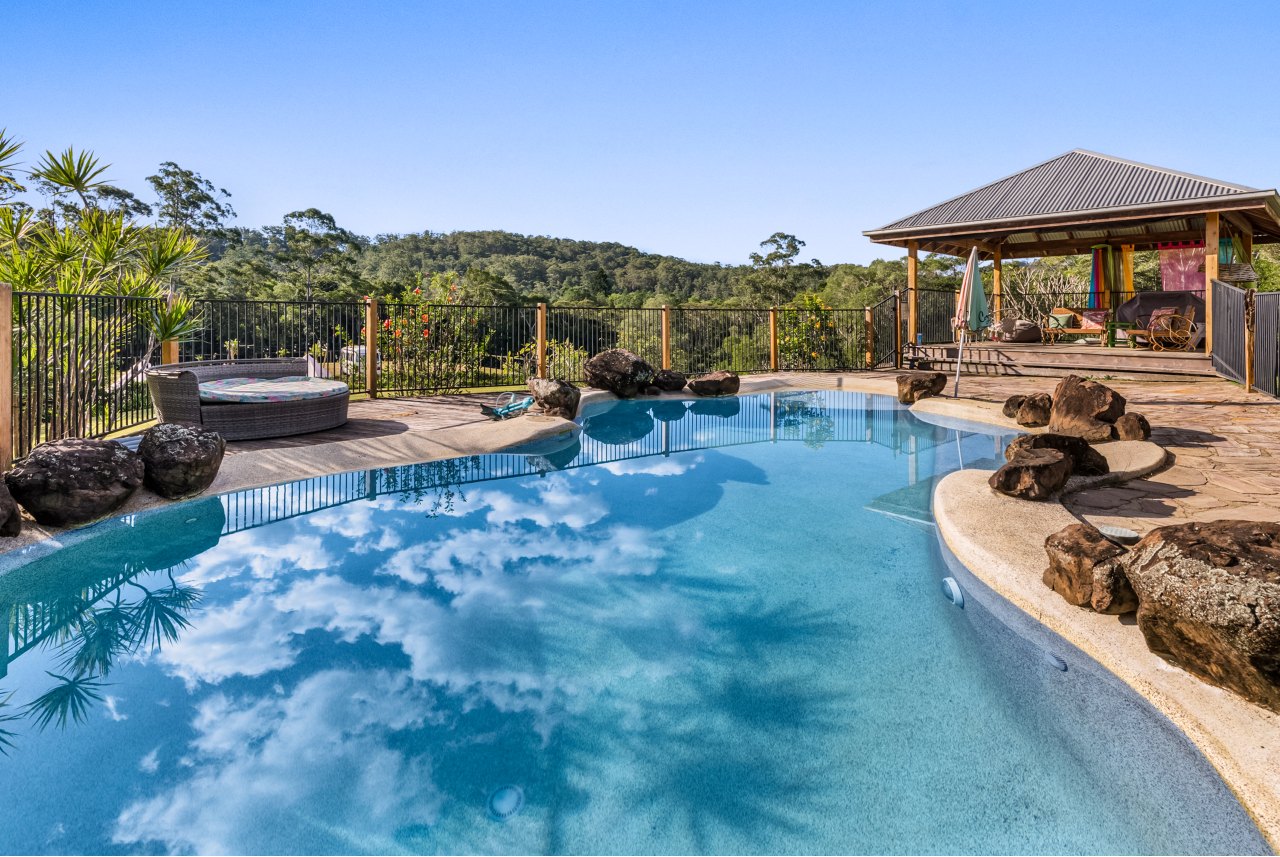 Together, the couple have upscaled and repurposed existing facilities over the past five years to include:
a large function room with decking and ample parking suitable for rustic-chic weddings, corporate events and parties
a fully functioning gym with outdoor shower
amenities block with four toilets and showers
glamping area with firepit, outdoor kitchen, pizza oven and barbecue
a "man cave" housing Mark's classic cars and memorabilia collection from the '50s-'70s, and big enough to fit a motorhome, boat, or 10 or more cars
a treehouse with a swing and sandpit
an amphitheater that can transform into an open-air cinema.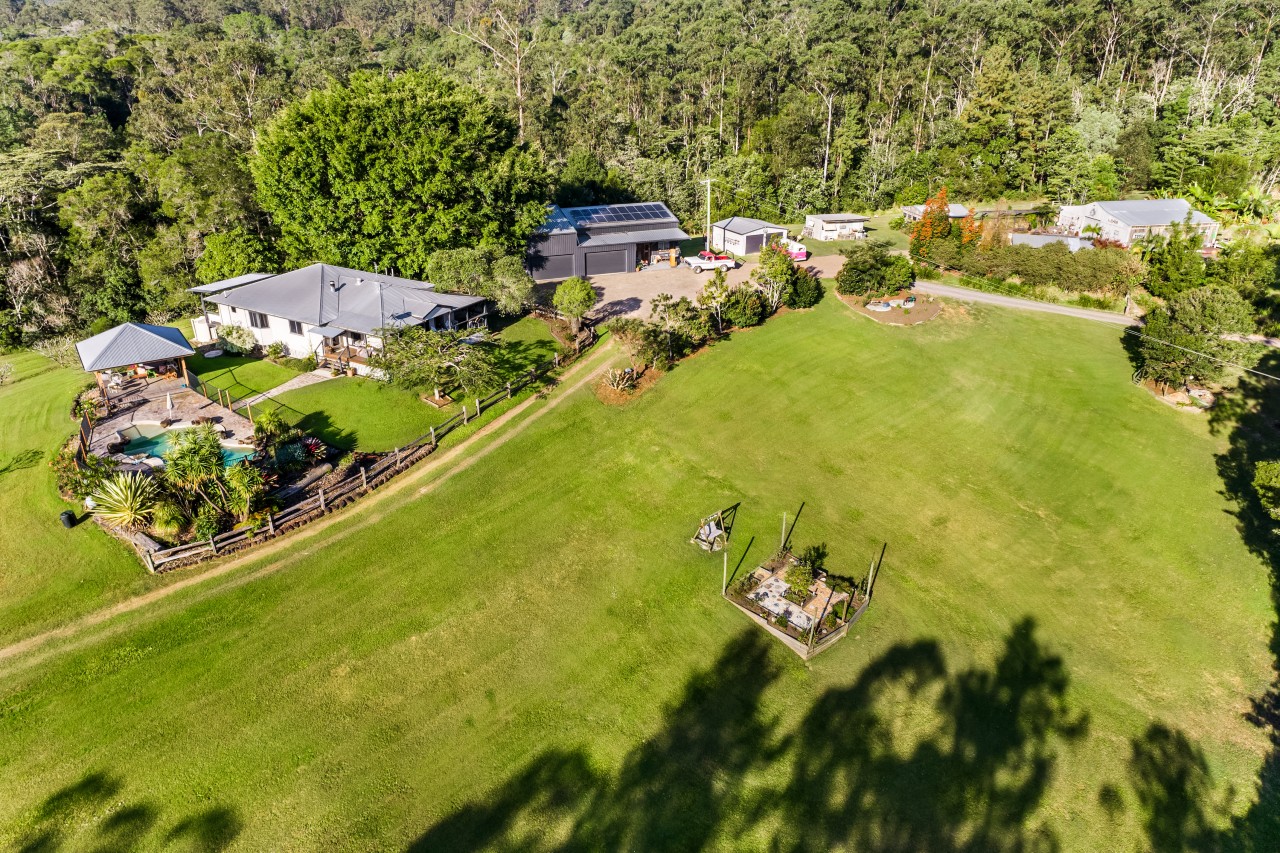 Glamping tents also are permitted to be set up on site.
"We did the hard yards here including all the council permits required to run weddings and events, so it's all ready to go," Mark says.
"There's so many pockets here that are really enjoyable retreat spaces.
"We built a meditation circle by the creek and a nature walk that goes for about 1.5km.
"The old horse arena is the glamping area with a central fireplace, so everyone gathers around at night and sits around the fire under the million stars."
And then there's the views – up to the Blackall Range and down to the treeline following the main creek waterway.
Like stories about Sunshine Coast people doing great things? Help us deliver more by registering for our free daily news feed. All it requires is your name and email. See SUBSCRIBE at the top of this article.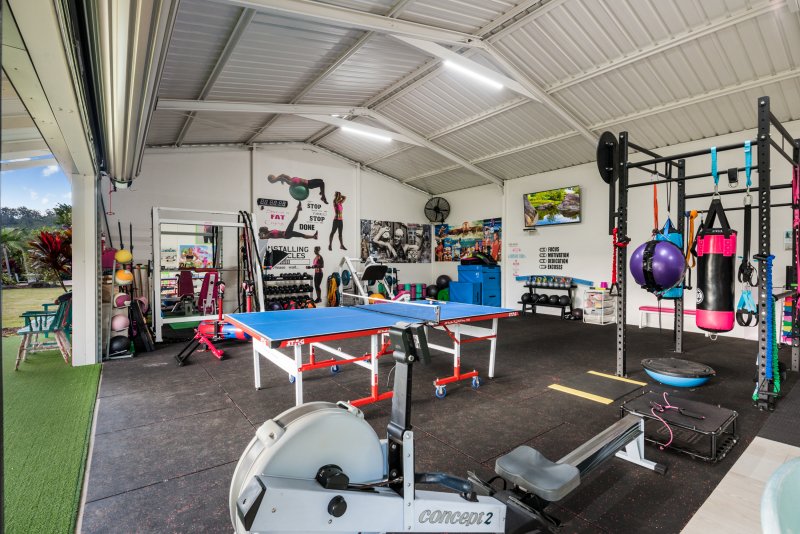 While so many improvements have already been made, Lisa and Mark believe their 26ha (64 acres) will be in demand as a blank canvas for someone to take full advantage of what they have started but also make their own mark.
"The Sunshine Coast hinterland is a major destination for weddings," Lisa says.
"What we offer is rustic, vintage, natural surroundings, where people can be married and not even have to go anywhere for photos because there are so many beautiful locations.
"We have not taken full advantage of the opportunity because we are so busy in our other work life.
"But for somebody who has that dream or goal of running weddings and retreats or even rent out to other people running retreats, it's ideal."
The hunt is now on to find their next semi-rural / rural acreage closer to the coast – and their all-important family members.
"It's really important for us to have some land for our puppy (Mali, a kelpie) and also for the grandkids," Lisa says.
Darren and Jenny Rix, from The Property League, will sell the property as part of an expressions of interest campaign from June 27. For information, contact him on 0416 188 259 or email darren@thepropertyleague.com.au
CROHAMHURST LIFE IN PICTURES