"Australian shares have been hit by the realization that we're facing a rate hiking cycle – the central bank is tightening policy and the easy financial conditions that have been underpinning the markets are receding," he said.
"Now there's a perception among companies that profit growth will slow as consumers pull back on their activity – that on top of the input cost pressures that companies are seeing which makes it more difficult for them to manage profit margins."
VanEck head of investments Russell Chesler pinpoints November 2021 as a turning point for markets when it became clear inflation was here to stay.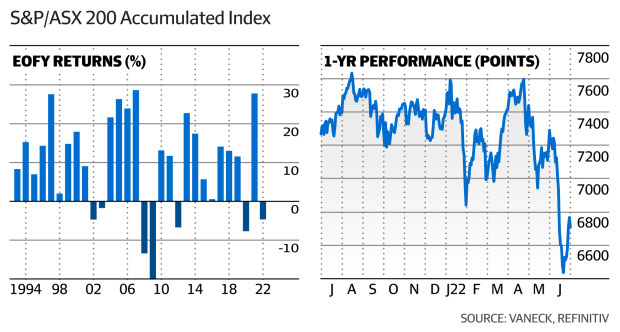 "Tech stocks, particularly unprofitable tech stocks, which were trading at really high valuations came off massively as investors shunned anything not making money and began looking at company fundamentals," he said.
Whether invested in Australian shares, global shares, bonds, or emerging markets, there has been nowhere to hide. Once the mainstay of savvy investors, the 60/40 balanced portfolio has suffered one of its worst years on record, savaged by double-digit declines in bond indexes.
However, Mr Schellbach is quick to point out that it has not been a disaster for Australian equity investors compared to the losses dealt by the US equity market and past downturns that have shaken global markets.
"Yes it's painful, and a reminder that equities do not only go up, but we must remember 2008 or times equity markets halved. This is nowhere near as severe, "he said.
The long-awaited rotation to value has put a rocket under energy and utility stocks, buoyed by multi-year high oil and commodity prices as supply and demand imbalances and inflationary pressures snaked through the global economy. But fortunes have reversed for the early pandemic winners: interest-rate sensitive information technology shedding almost 40 per cent.
"It's an inevitable consequence of interest rates moving up and yields moving up which meant that highly valued growth stocks get hurt by higher discount rates," Mr Schellbach said.
The story is borne out in the best and worst-performing S&P / ASX 200 stocks for the year, lithium and coal mining stocks on one side of the ledger, tech darlings, fund managers and retailers on the other.
The big four banks are among this year's biggest disappointments for investors, bucking assumptions they would outperform in a rising interest rate environment. The financial sector fell 16 per cent in the first half of June following a surprise 50 basis point increase in the cash rate and more tipped to come.
Investors are now entertaining the possibility of a hard landing, or financial market shorthand for a recession.
An investment in the Australian sharemarket today stands to earn a 5 per cent return by the end of the year, on Mr Schellbach's optimistic view, assuming a 7000-year-end target on the S&P / ASX 200. He believes that halfway through the forecast earnings downgrade cycle, equity prices can "start looking through and rallying again".
Mr Chesler remains cautious, warning that markets are in a volatile position. He tips ASX gold miners, global infrastructure and REITs as places to hide.
"Have we hit the bottom yet? I do not know, but I think there's a reasonable chance there's still a way to go, "he said.