Yonks back, I remember chatting with the then CEO of the Brumbies about the night Eddie had his first major breakthrough as a coach – guiding them to their first title win in Super Rugby. It was in 2001, at Bruce Stadium in Canberra, and the Brumbies had beaten the Sharks by an extraordinary 36-6. After the match, the whole team went out on the town, Eddie and the Brumbies CEO included, and the boss was with them until the early hours. The following day, however, a Sunday, he had to duck by the Brumbies HQ at 9am, and immediately saw something on his desk.
It was Eddie's report on the season just gone, why they had triumphed – and, far more importantly, the things that hate to be done, immediately, to ensure victory in 2002!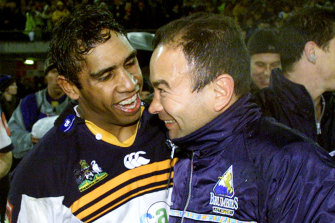 Eddie's success was such that he took over the Wallabies instead, and if not for Jonny Wilkinson's field goal in the 2003 World Cup final, he would indeed have been a World Cup-winning coach with Australia. No matter, the success of that propelled him into the rugby coaching stratosphere. This included being the assistant coach to Jake White's victorious World Cup-winning Springboks in 2007, and of course – still perhaps his most fabulous coaching achievement of all – coaching Japan to victory over the Springboks in the 2015 World Cup. Stories would emerge later of Eddie minutely preparing his team for two years to win just that match – and they pulled it off!
And then, of course, he took on coaching England, where he has been for seven years. In all that time, while his intensity has never wavered, his style has. It is not quite that he has evolved with the times, rather that the rugby times themselves have evolved around him. In his first years of coaching, he was known as a stats monster, endlessly trawling statistics of both his and opposing teams to find whatever secrets could be unlocked. There has been less of that in recent times.
As I have recounted before, in 2016, after Eddie had guided his England charges to a 3-0 series win over the Wallabies, he very kindly agreed to speak at a breakfast – no charge – put on by the Hunters Hill rugby club. When it came to the secrets of his success, in questions posed by Gordon Bray, he talked mostly about the importance of picking players with the right character and then working them harder than the teams they were playing against. But here was the part I loved, when he was asked about the virtues of statistics.
Here's Eddie. . .
"You can make statistics do anything you like, and some coaches really believe in them, but I do not. There are only two statistics we look at. Firstly, how long does it take a player to get up off the ground and get back in his place for defense. Secondly, how long it takes a player to get up off the ground and get back in his place for attack. "
Bingo!
One way or another, the only people who can survive, let alone prosper, in an Eddie Jones regime will be those who, just like him, put in all the time – and they need to have an approach to the game that makes a blowtorch look like a flickering candle. If I had been one of his players, I have no doubt Eddie would have dropped me off at the next station – on the off-chance I hadn't already jumped on the railway tracks first just to get away from him.
Loading
His approach is not for everyone but it is hard to argue with his results, and he has been an adornment to the game. The only thing that could top his extraordinary career – and it would be the perfect final chapter – would be to return to these shores for good, and take the Wallabies to the summit in the 2027 World Cup.
Here's. . . Eddie!
Twitter: @Peter_Fitz
Watch every match of the July Test Series on the Home of Rugby, Stan Sport. Kicks off this weekend with Wallabies v England (Saturday 7:15 pm AEST), All Blacks v Ireland (Saturday 4:30 pm AEST), South Africa v Wales (Sunday 12:55 am AEST) and Argentina v Scotland (Sunday 5:05 am AEST). All streaming ad-free, live and on demand only on Stan Sport.