"I do not think you can underestimate how much it means for the Australian team to come here and win, and regardless of whether we won 3-0 last time or not, it's a different competition at this point," Lawes said.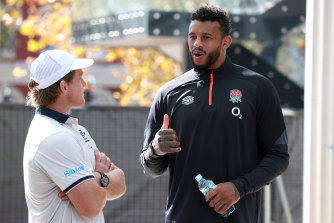 "Don't get me wrong, we'm confident going into the game tomorrow, we have a great team here and we have had a good training week.
"They'll play very differently. I know they think they did not fire any shots in that (November 2021) game and I would be surprised if they did not throw the kitchen sink at us tomorrow. "
Meanwhile, Eddie Jones had bemoaned the absence of "niggle" between the Wallabies and England camps after a very subdued build-up to the first Test in Perth on Saturday.
Though he attempts to argue otherwise, Jones is a master of the midweek mindgames and he was in full pomp during England's successful 2016 tour of Australia, where the tourists thumped the Michael Cheika-led Wallabies for a 3-0 series whitewash.
Six years later, Jones is still in charge of England but Cheika has moved on; forced to walk away after losing to Jones in the quarter-finals of the 2019 Rugby World Cup.
In Cheika's place has come the famously taciturn Dave Rennie, who is so publicly composed he was asked on Thursday if he was actually excited about the upcoming England series.
"Can't you see I'm excited?" Rennie joked, with an expressionless face.
Knowing that Jones uses press conferences to plant seeds of doubt in the minds of rivals and referees – and motivate his own players – Rennie has deliberately stayed away from saying anything that might be jumped on by the England coach.
Combined with the fact the Wallabies stayed in Queensland for most of the week, the first Test in Perth has been largely devoid of any hype and Jones admitted he was finding it discombobulating.
"In 2016 we had Cheika here and there was a bit of a niggle – it was good, good Australian sport," Jones said.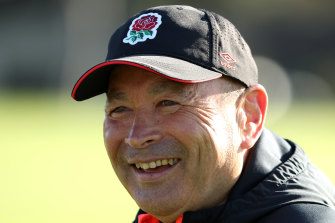 "This time it feels like … I do not know what it feels like. I prefer it like that, but you can not spare against nothing. I like a bit of fun. When you're sparring in a corner by yourself, it's not much fun. "
Rennie was asked about the milder pre-game commentary from Jones on Thursday, prior to the England press conference.
"He probably has the same mindset as me, it's not about us, it's about the players and we will let them do the talking," Rennie said.
Jones was more excited about the potential impact of 19-year-old Henry Arundell, who he selected as an apprentice for the tour but ended up picking on the bench due to Jonny May contracting COVID-19.
Loading
Jones said Arundell had scored a try at training rivalling the one he scored for London Irish against Toulon.
"How long is the field? 100m? He scored a 90m try at training on Wednesday, "Jones said.
"There were a few, I will not use the expletives, 'he's fast!' heard. We had a number of coaches from different sports watching and they heard this comment. He could be a very good player but he got a long way to go. "
"It was like a try Bryan Habana used to score – one of those."
Watch every match of the July Test Series on the Home of Rugby, Stan Sport. Kicks off this weekend with Wallabies v England (Saturday 7:15 pm AEST), All Blacks v Ireland (Saturday 4:30 pm AEST), South Africa in Wales (Sunday 12:55 am AEST) and Argentina v Scotland (Sunday 5:05 am AEST). All streaming ad-free, live and on demand only on Stan Sport.