There's more to urban greening than trees. Melbourne already has some great examples of how complementary greening can help soften city streets, helping convert the feeling from "gritty" to "lush". Creepers grow well on blank walls, especially common in side lanes; pick the right species and your mortar will be fine. It's also easy to run downpipes into "raingardens" that both capture stormwater and help plants grow.
It takes a little trust, but you can also add a lot of greenery to a street by allowing traders and residents to keep pot plants of their own on the footpaths. This really works – you can go and see it today in Guildford Lane, a greening project I worked on back in 2017. We couldn't fit the trees in that extra-narrow laneway but we rolled out all the other treatments I've mentioned , and the space buzzes with visitors now. On my last visit I counted over 50 pots owned by residents, then gave up because I was only halfway down the street. It's a great community, but it's just a taste of what's possible. Bigger streets like Little Lonsdale or Little Collins could be even greener.
The great thing about using pedestrianization and greening to renew the city is that it can be done quickly, and it works best when traders and residents make many of the decisions.
When I worked with the city's laneways in 2016, a group of traders in Meyers Place negotiated with me to try out two kinds of road closure: we put in daytime-only bollards for a week, then tried a week of full closure. We quickly assembled a temporary version of the permanent greening, using trees in pots, murals by local street artists and temporary permits for street dining. The lane filled with people as soon as we closed it, and we learned a lot. By the end of the fortnight, the traders had concluded they preferred full closure. We'd talked to firefighters, disability access specialists, bin companies and driveway owners to sort out the practicalities. The permanent changes took a little while to design up and build (a period where we all wished we'd kept the temporary stuff in place), but now that the works is done, Meyers Place now is a lively pedestrian space with big healthy trees , vibrant street dining and a spectacular green wall.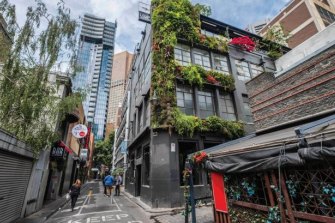 I encourage you to go and visit these laneway-sized success stories and imagine what they could do for our city when scaled up. Right now, over 60 per cent of street space in our CBD is given to roads or parking, yet just 22 per cent of people moving to, from or within the Hoddle Grid do so using a car. This is way out of whack, and the imbalance is what makes our city unappealing. Working with traders and residents, we can tip the scales back towards balance, and enjoy a much greener, more inviting city as a result.