St Basil's Homes for the Aged has been charged by WorkSafe with failing to provide a safe working environment for its staff and others during the COVID-19 pandemic.
Forty-five residents of the Fawkner facility died from coronavirus in 2020, with the Coroners Court hearing last year that another five residents also perished, probably from neglect.
It's the first time charges have been laid against St Basil's following the COVID-19 outbreak, with a separate civil action already underway.
Ninety-four residents and 94 staff tested positive to COVID-19 during the 2020 outbreak.
On Monday, WorkSafe revealed it had charged the aged care home with nine breaches of the Occupational Health and Safety Act following its investigation into St Basil's.
WorkSafe alleges that in July 2020, after a worker notified the home they'd tested positive to COVID-19, St Basil's failed to ensure workers wore personal protective equipment or train them in how to safely use PPE, verify staff could competently use the equipment , advise staff when it must be used, or supervise its use.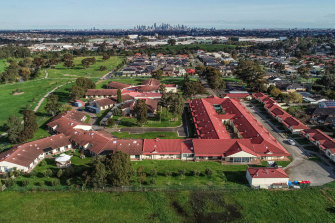 St Basil's has been charged with nine breaches including failing to provide or maintain a safe working environment alongside two counts of failing to allow workers to perform duties without a risk to their health.
The aged care provider has also been charged with three counts of failing to ensure those other than staff were not exposed to health and safety risks, and three counts of failing to ensure the workplace was safe for those entering and leaving the premises.