The stormy pattern continues across the Prairies this week, with a risk of strong to severe storms to bubble up in some areas. Powerful wind gusts and large hail are the biggest threats with these storms through Tuesday, though we can not rule out the chance for supercells to develop. The risk of storms will be largely scattered across the Prairies into Wednesday, with a few isolated stronger storm cells possibly nudging across the international border into the evening hours. Warmer temperatures will also span the region this week, though no extreme heat is expected even into next week. More on the storm timing and impacts, below.
---
Visit our Complete Guide to Summer 2022 for an in-depth look at the Summer Forecast, tips to plan for it and much more!
---
TUESDAY INTO WEDNESDAY: STRONG THUNDERSTORM THREAT WITH RISK OF LARGE HAIL, POWERFUL WINDS
A trough tracking across Alberta and Saskatchewan will trigger scattered thunderstorms Tuesday afternoon and evening, with a narrow axis forecast to produce stronger storms into the early evening hours.
An upper level disturbance and surface trough will be the trigger for the thunderstorms Tuesday.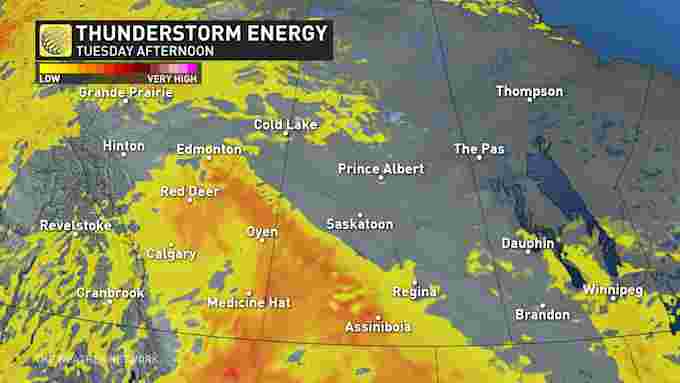 "An area from Red Deer to Oyen in Alberta toward Kindersley and Saskatoon could possibly see stronger storms into the early evening as wind shear will be a bit more favorable to support stronger storms or supercell," says Kelly Sonnenburg, a meteorologist at The Weather Network .
Strong wind gusts and large hail, up to toonie or even ping pong ball-sized, are possible within the strongest storms. There's also a risk for a funnel cloud or two from Red Deer towards Oyen, where there is a bit more spin present in the atmosphere.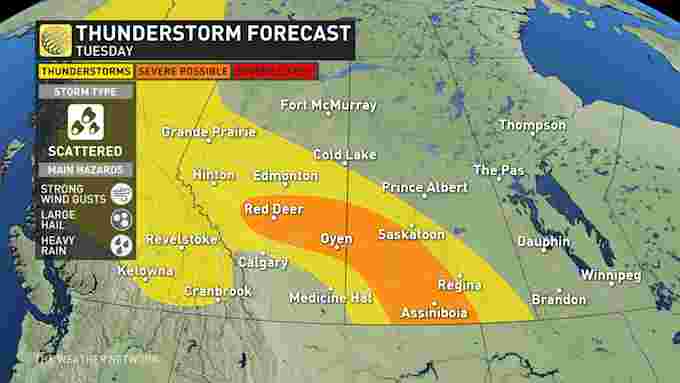 On Wednesday, the risk of storms will be largely scattered across the Prairies. The surface trough over Alberta will migrate east towards Saskatchewan and Manitoba, with the focus of scattered storms spreading across the Interlake area of ​​Manitoba. A few cells may develop in far eastern Saskatchewan as well.
"Storms are forecast to develop along the foothills of Alberta, but will be mainly non-severe in nature," Sonnenburg says. "But we will need to watch a developing low over Montana that may nudge a few isolated stronger storm cells across the international border late into the evening."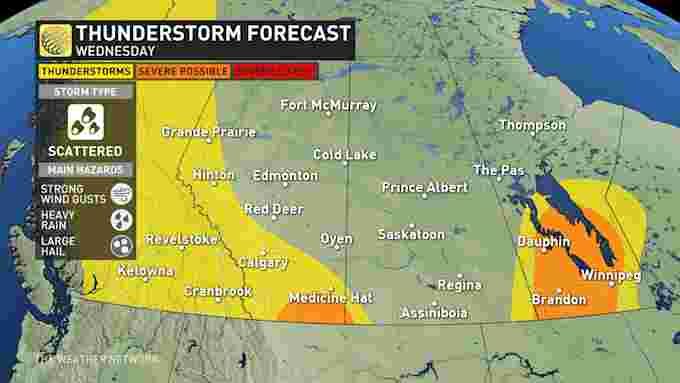 Warmer temperatures are forecast across the region this week, with a couple of days in the mid to upper 20s to lower 30s late week and weekend. Above seasonal temperatures are expected for next week, but no extreme heat is in sight.
Forecasters are also watching the potential for a significant system this weekend as a developing low pressure system could track into the region with widespread rain and storms possible, especially for parts of Saskatchewan and Manitoba.
–
Be sure to check back for the latest updates on the weather and storm threats across the Prairies.
.