Qantas chief executive Alan Joyce has been accused of mismanaging the national carrier, as a simmering pay dispute with the aircraft engineers union and potential looming strike threats to add to the airline's current woes.
The reopening of borders and easing of COVID-19 restrictions have sparked a boom in air travel in recent months. But Qantas has been hit by a wave of customer anger due to flight delays and cancellations, lost baggage and lengthy wait times for customer service calls. Now the company is also facing renewed tensions with unions representing thousands of employees.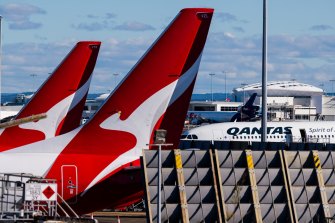 The Australian Licensed Aircraft Engineers' Association (ALAEA), which represents about 1650 licensed engineers across the Qantas, Jetstar and Network Aviation brands, is threatening industrial action if Qantas does not bow to its demands for an above inflation pay rise of 12 per cent.
The union's chief, Steve Purvinas, told the Herald spirit The Age that strike action will only be taken as an act of last resort, saying the union would seek minimize the impact on the traveling public.
"The airline is a mess at the moment because of mismanagement," he said. "We do not want to create an excuse or reason for Mr Joyce to blame us for his own failings."
A spokesperson for Qantas said the company had been negotiating in "good faith" and said ALAEA's union action was "completely unnecessary".
"We have contingency plans to minimize any disruptions," the spokesperson said. "[The 12 per cent pay rise is] something we simply can not afford and is well above wage increases for other employees across the group. "
Qantas last month announced cuts to capacity, the number of flights it makes available, in an attempt to mitigate higher fuel costs. Morgan Stanley analysts this week downgraded their outlook for Qantas' earnings and share price due to the surging fuel costs, but said the company's "recovery is well underway and the balance sheet is being repaired faster than anticipated".
Joyce, who famously grounded plans in 2011 during an industrial dispute, has taken a notoriously tough approach to negotiations with unions over pay and conditions.