It also led online pet goods seller Pet Circle's Series C funding round late last year, valuing the company at an estimated 4-times revenue and timed near the top of the market for long-dated tech / growth companies. Shares in US-listed Chewy Inc. a similar company, have more than halved since.
The secretive TDM also pitched music streaming service Spotify to the Sohn Hearts and Minds on December 3, last year. Spotify's shares are down 57 per cent since.
It's also big backer at marketing technology company Rokt, which has put off listing plans until 2023, and Aussie VC favorite CultureAmp, while other listed companies it has invested in include Twilio (-68pc this year) and Block (-47pc).
Tough times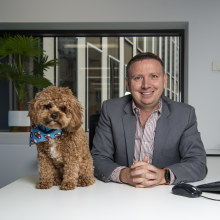 TDM's disclosed stakes in listed Australian companies include 26.8 per cent of sleep apnea devices group SomnoMed (-45pc this year) and Pacific Smiles (-37pc), where it ceased to be a substantial shareholder in December. ASX filings suggest it retained a rump stake. It sold the bulk of its Tyro Payments shares in 2020.
It's also been a long-term holder at Mineral Resources (-22 per cent this year), although it is not known whether TDM still owns shares in the company. The S&P / ASX 200 is down 12.5 per cent this year, while the Nasdaq has dropped nearly 30 per cent.
TDM Growth Partners' portfolio (as its name suggests) is heavily skewed towards long-dated growth plays. Listed and unlisted markets have savaged growth stock valuations in the past seven months, and particularly those where the bulk of expected earnings does not appear in discounted cash flow models for another five or 10-years.
The same thematic helped wipe 53 per cent off rival manager Caledonia's fund in the 2022 financial year, while investors are awaiting customary year-end reports from other fund managers.
The usually private TDM has addressed the market's mood in public blog posts recently, saying it focuses on its businesses' revenue and earnings, not share prices. It reckons now's the time to buy "high-quality, long-duration growth assets at attractive prices".
As for the GYG position, TDM's investment is considerably bigger than Magellan's; the group has repeatedly been referred to as the burrito chain's biggest shareholder, alongside CEO Steven Marks. It bought into GYG in August 2018, when it tipped in $ 44 million to bankroll the company's US expansion plans.
GYG has conducted other private funding rounds since. The company has long-held plans for an initial public offering, however any thought of a sharemarket listing would be on hold given wider equity capital market conditions.